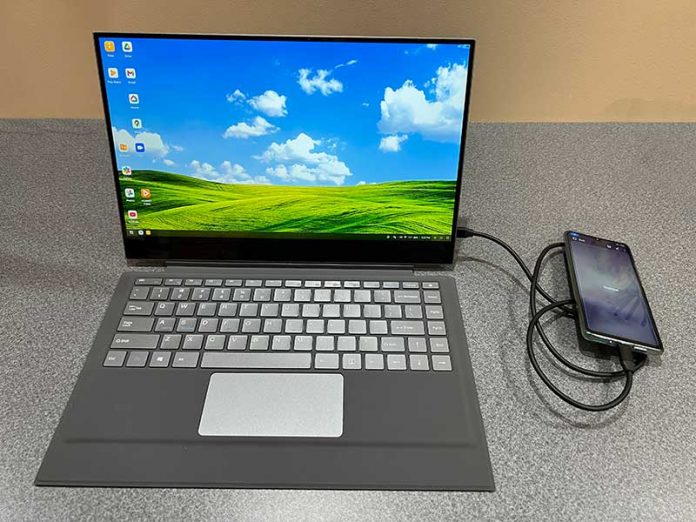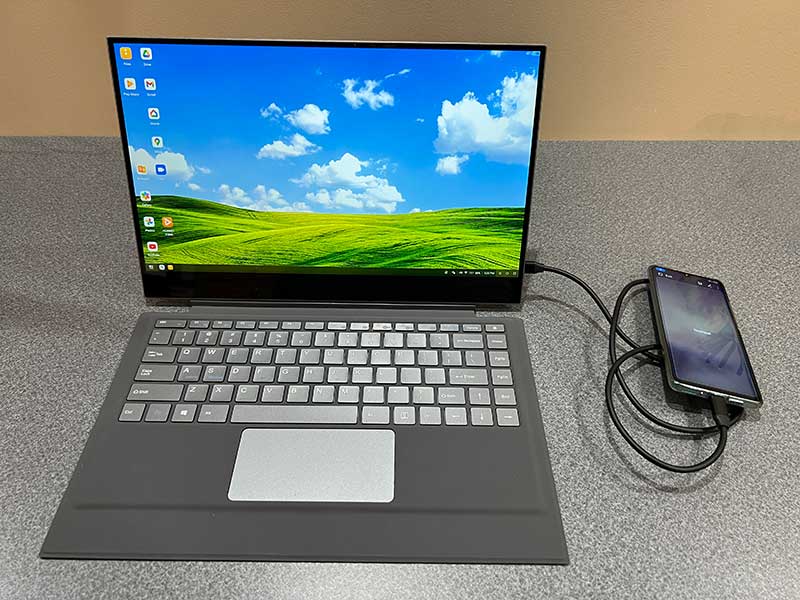 We use affiliate links. If you buy something through the links on this page, we may earn a commission at no cost to you. Learn more.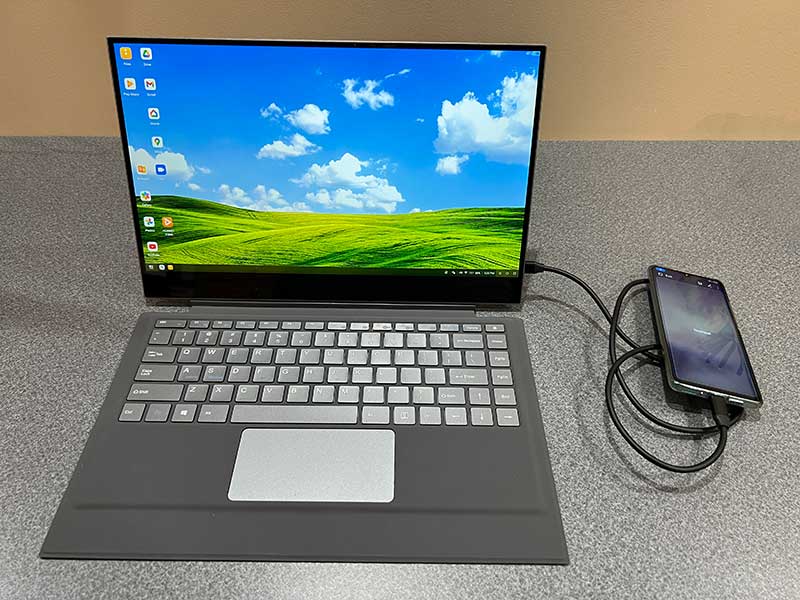 REVIEW
– My long time wish of having one device that functions as my camera, my phone, and my computer was a dream for a very long time, but now it's a reality with smartphones like the Samsung Galaxy line of phones that have Dex. Dex turns your smartphone into a desktop computing experience when you plug it into a monitor. Super cool, but it's not exactly convenient for on-the-go work when you also need a mouse and a keyboard. That's where the
UPERFECT X Pro Lapdock
can be a game-changer. Let's check it out.
What is it?
The UPERFECT X Pro Lapdock is a "dumb" laptop with a display, keyboard, touchpad, and touchscreen. When you connect certain smartphones and tablets, it turns them into a full-fledged laptop. It can also be used as a second monitor for a laptop or computer.
What's in the box?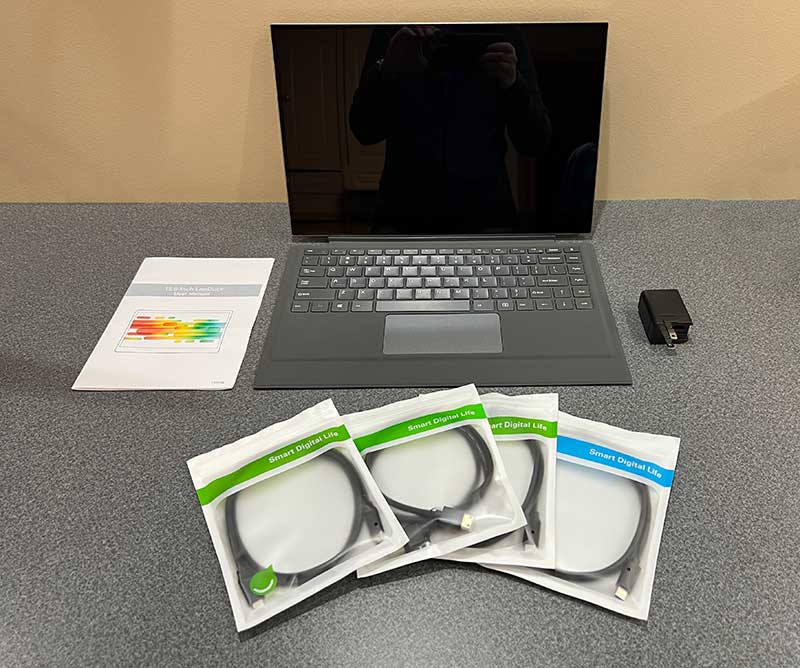 UPERFECT X Pro Lapdock
Magnetic keyboard
Mini HDMI Cable
2 USB-C to USB-C Cable
USB-A to USB-C Cable
PD 30W Charger
User manual
Hardware specs
Screen size – 15.6 inch
Resolution – 3840 x 2160
Panel type – IPS
Color Gamut – 100% sRGB
Average Brightness – 300 CD/M2
Interface – USB-C, mini HDMI, 3.5mm audio jack
Battery: 10000mAh / 8hrs of video playback / 4-6 hours of Dex use
Size – 355 x 221 x 5 mm
Weight – 1016g
Design and features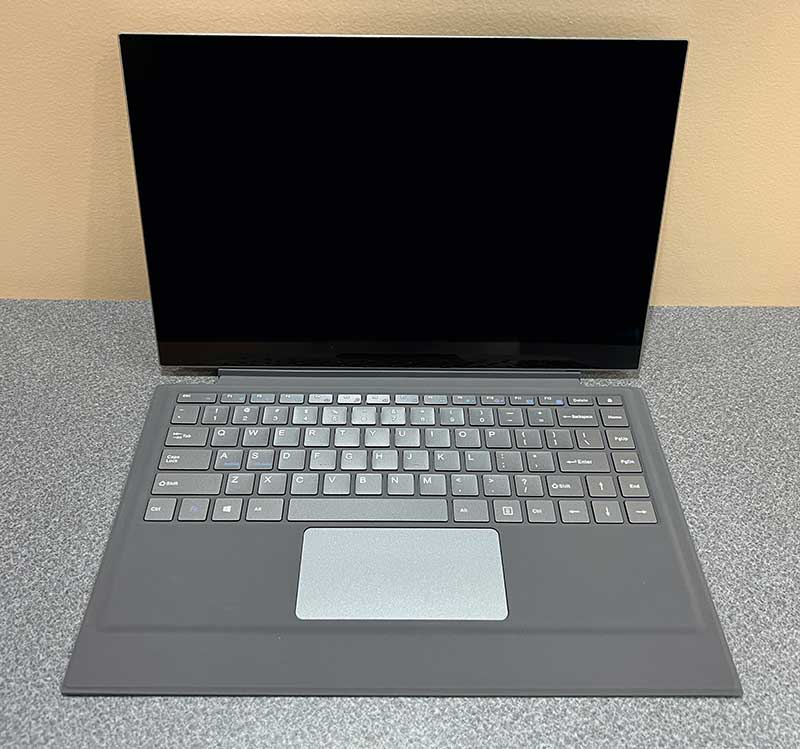 At first glance, most people could easily mistake the UPERFECT X Pro Lapdock for a laptop due to the full-sized keyboard and touchpad.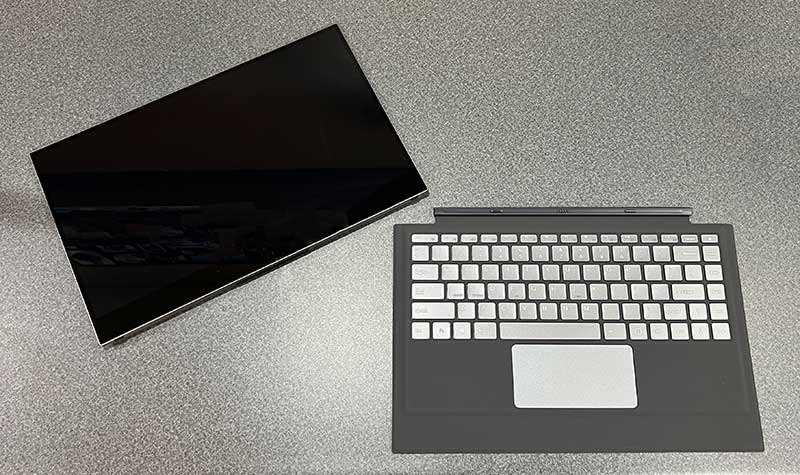 The keyboard doubles as a cover for the display and it can detach from the bottom of the monitor. Note that the "case" around the keyboard is made of a soft plastic and the attachment point with the monitor is NOT a true hinge. That means that the UPERFECT X Pro Lapdock is not designed to work on your lap.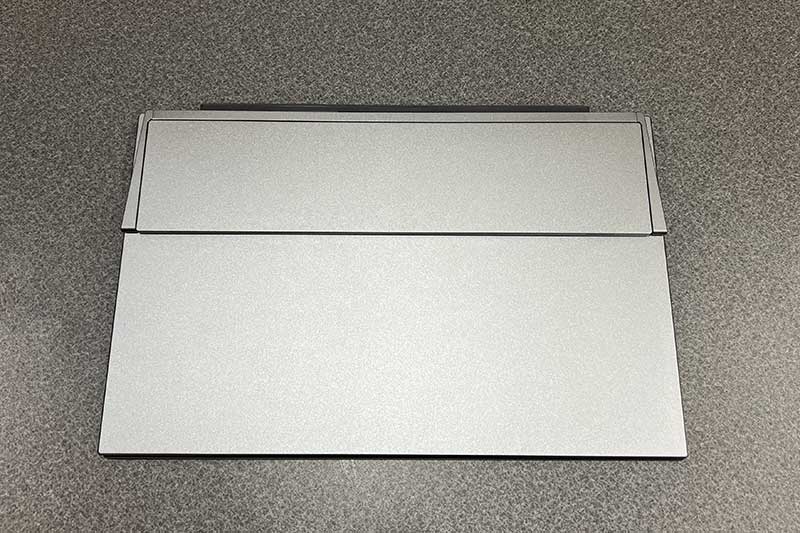 It's suited best for working on a flat surface like a desk because the monitor has a built-in stand on the back.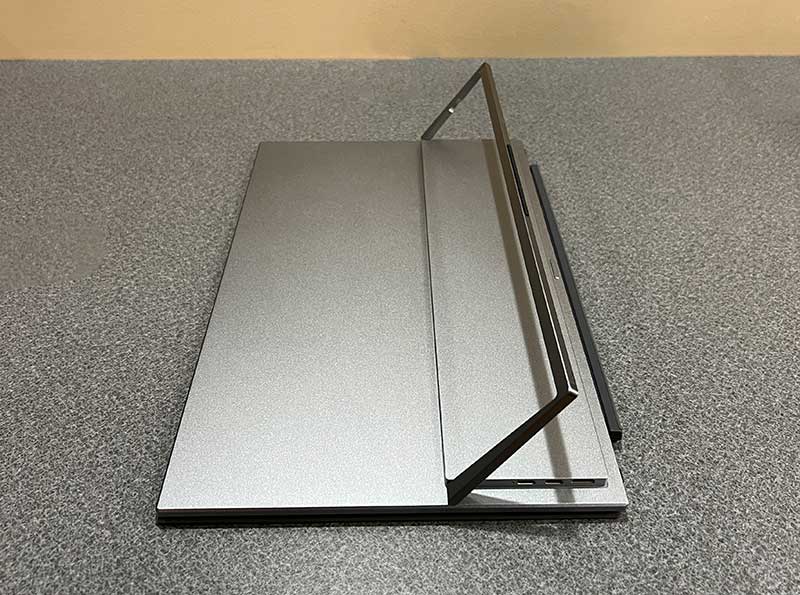 This 180-degree stand unfolds to allow you to easily adjust the viewing angle of the monitor.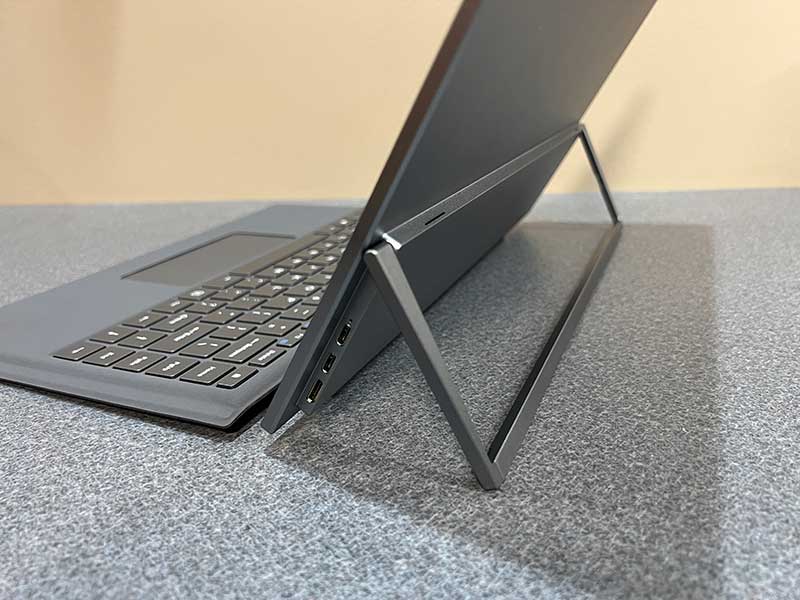 With the stand unfolded, you have access to a variety of ports. On the right side of the unit, you'll find a USB-C port which is used for power to the monitor and to recharge the monitor's battery, USB-C (full function Samsung Dex) port, and a mini HDMI port.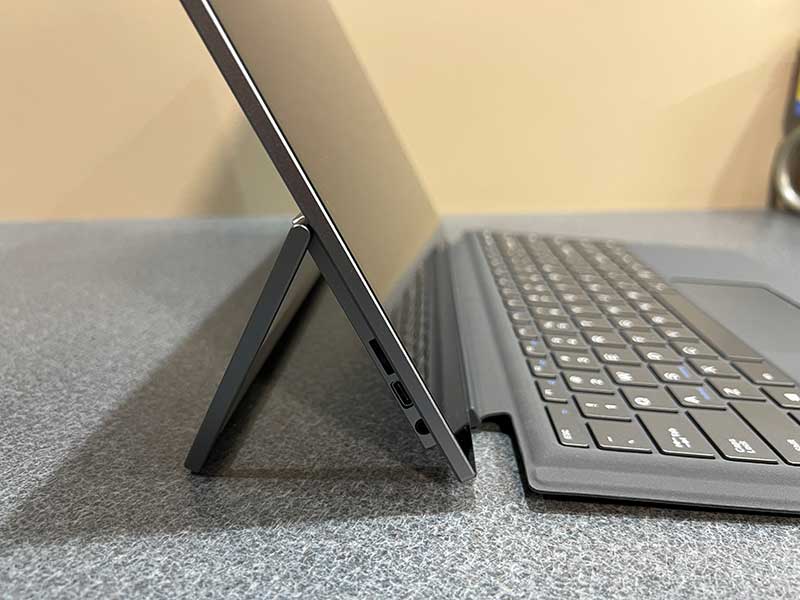 On the opposite side of the display, there is a Power ON/Off Menu button, USB-C (OTG) port, and a 3.5mm headphone jack.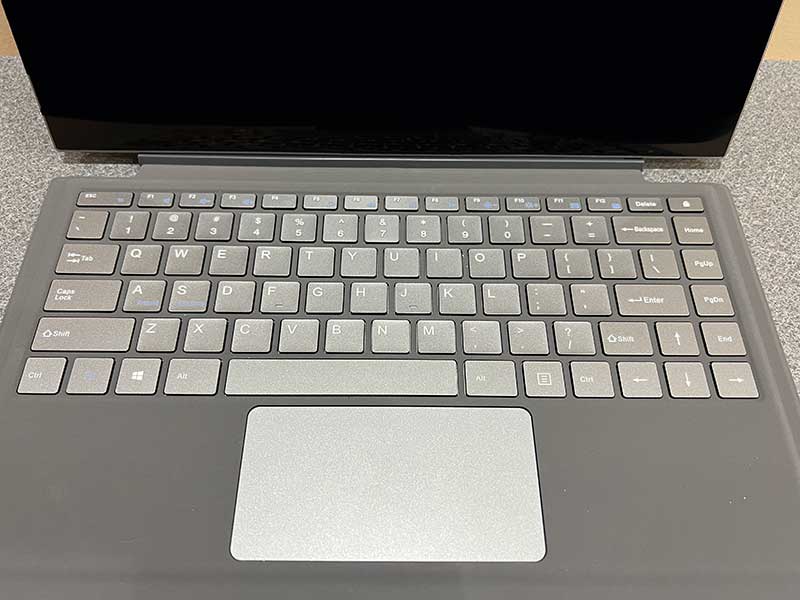 The keyboard is large and roomy but it can flex a bit as you type on it due to the non-rigid cover/case material. The slight flexing didn't bother me as much as the trackpad which is… well… pretty terrible. It's fine for scrolling, but when using it to select things, it's bad. The lower corners function the same as a left and right mouse button but the action isn't very good and I sometimes found myself clicking multiple times to do what needed to be done.
Let's connect it to something!
MacBook Pro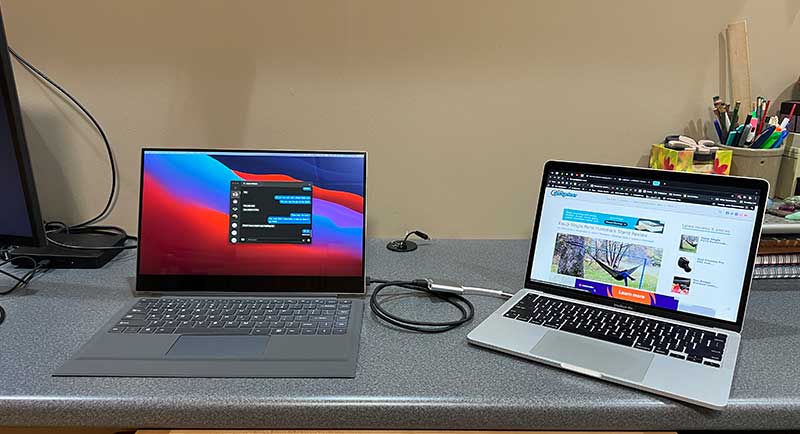 I tested the UPERFECT X Pro Lapdock with several devices. First I connected it to my 13in MacBook Pro M1 using a USB-C -> HDMI adapter and the included HDMI -> mini HDMI cable included with the LapDoc. Everything worked fine as a second monitor. Of course, the keyboard and trackpad did not work in this configuration.
I then connected the MacBook to the Lapdock using a USB-C -> USB-C cable plugged into the USB-C DEX port on the UPERFECT. When connected this way, the UPERFECT becomes a second display that you can move windows to.
I was very surprised that the keyboard, trackpad, and EVEN the Lapdock's touchscreen worked which was pretty cool. BUT, when I tried connecting everything again the same way a day or so later, I couldn't get the UPERFECT's display to come on, but the keyboard and trackpad did work which was odd. The touchscreen didn't work though. Subsequent connections worked and then didn't work again so I don't know what is causing the odd glitches.
iPad Pro
Next up was my 11 inch iPad Pro. I first connected it with a USB-C to USB-C cable into the UPERFECT's USB-C DEX port and the iPad's display was mirrored on the UPERFECT's display. The trackpad on the UPERFECT allowed me to select and launch apps but I found the trackpad wouldn't work consistently. The cursor would move as I moved it with the trackpad with my finger but the behavior was weird and erratic and would sometimes cause the touch interface on the iPad itself to freeze. The keyboard worked fine, audio from apps played through the UPERFECT's speakers, and even the touchscreen on the UPERFECT worked a few times when connected with this cable, but not consistently.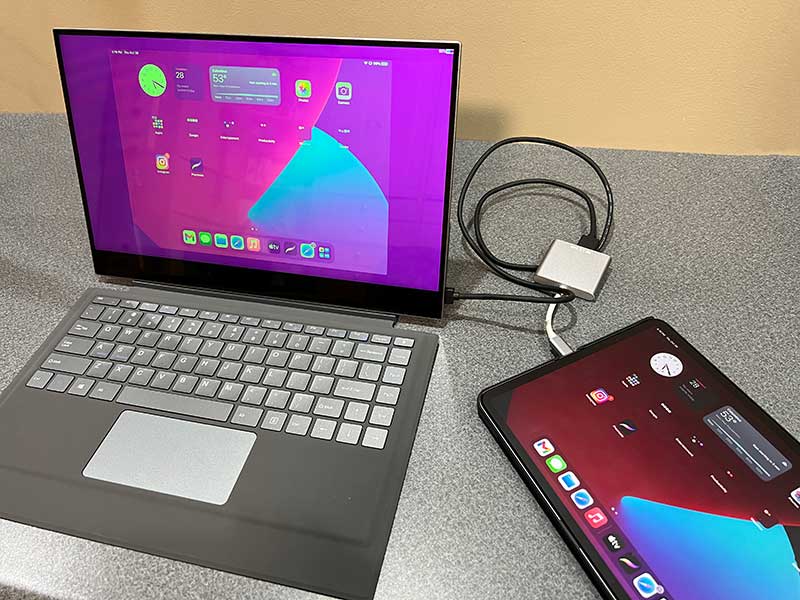 I then tried using the same USB-C -> HDMI adapter that I used with the MacBook and the display on the UPERFECT was all pink like you see in the image above.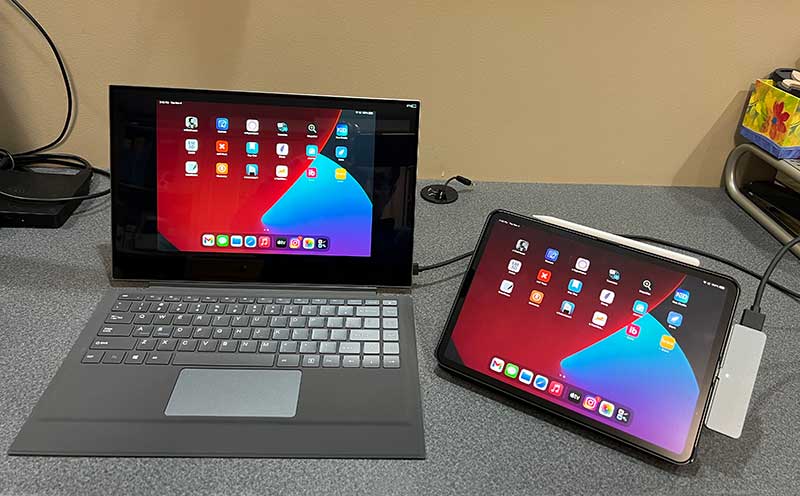 Lastly, I tried a newer USB-C hub with the same HDMI -> mini HDMI cable and it worked great for mirroring the display and playing audio from the iPad's apps. The keyboard, trackpad, and touchscreen did not work when connected this way which should not come as a surprise.
I think it would be nice if the UPERFECT's keyboard and trackpad were also Bluetooth so that you could use them when connected via HDMI.
OnePlus 9 Pro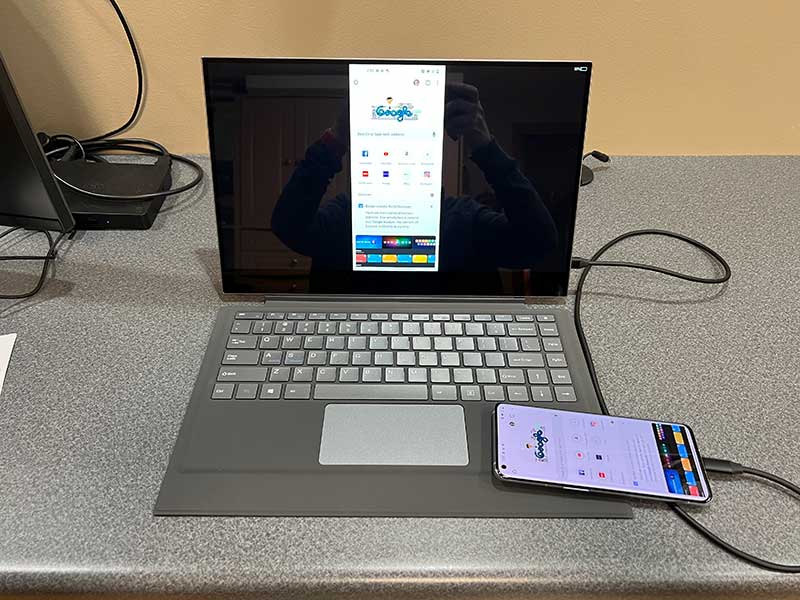 Next up was a OnePlus 9 Pro Android smartphone connected to the UPERFECT using the included USB-C -> USB-C cable plugged into the USB-C DEX port. When connected this way, the OnePlus 9 Pro's display was mirrored on the UPERFECT's display. The keyboard worked as well as the trackpad and the monitor's touch screen worked too.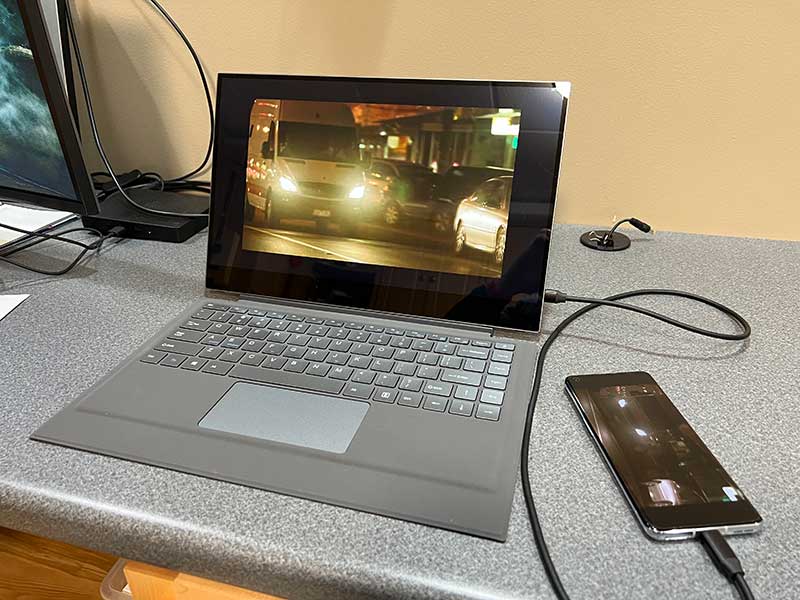 When launching NETFLIX on the OnePlus 9 Pro, it converted to full-screen mode while playing the video which was cool, and audio played through the UPERFECT's built-in speakers.
iPhone 13 Pro Max
I was unable to get the iPhone's display to be mirrored on the UPERFECT's display even using a lightning to HDMI adapter.
Huawei P30 Pro Android Smartphone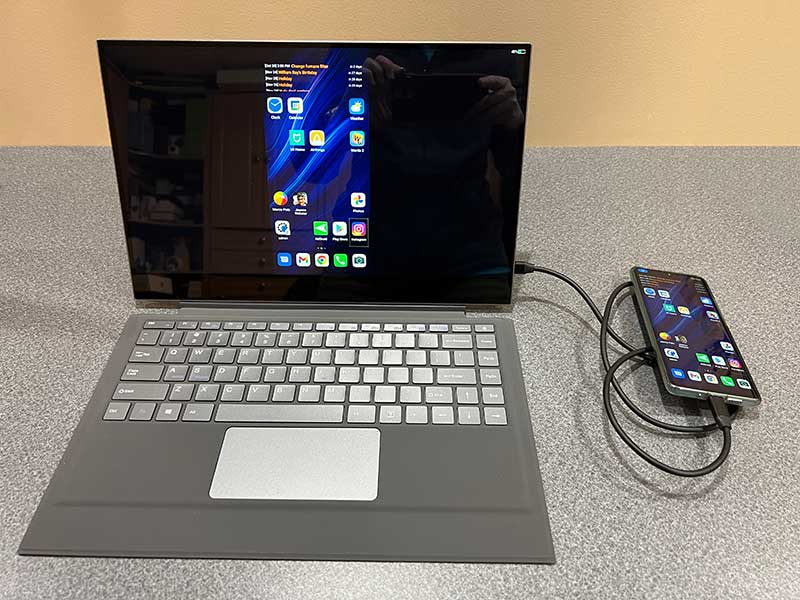 Of all the devices that I tested, my best experience was with the Huawei P30 Pro smartphone when connected with the USB-C -> USB-C cable into the DEX port on the UPERFECT. You can use the connection as shown above where it mirror's the phone's display. In this mode, the keyboard works, the trackpad works, as does the UPERFECT's touchscreen, and the UPERFECT's built-in audio.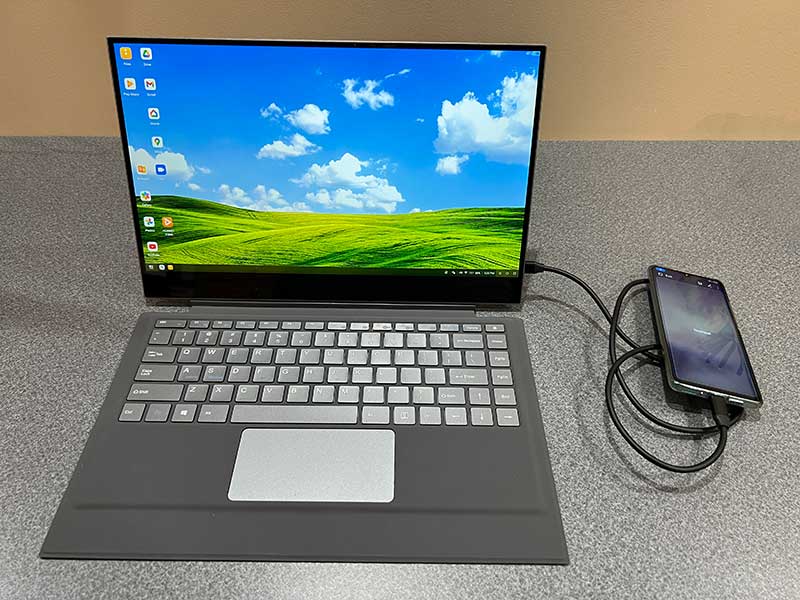 But the best way to use it was in fullscreen mode. Now, the P30 Pro isn't the same as Samsung DEX, Huawei calls it EMUI. But it's pretty darn close. It turns into a full windowed interface that feels very much like Windows or macOS right down to the keyboard, trackpad, audio, and touchscreen.
Devices that support desktop mode on the UPERFECT X Lapdock:
Samsung Galaxy S8/S8+, Note8, S9/S9+, Note9, S10e/S10/S10+, Note10/10+, S20/S20+/S20 Ultra , Note20/Note20 Ultra, Galaxy Fold, Galaxy Z Fold2, Galaxy Tab S4, Tab S5e, Tab S6, Tab S7.
Huawei Mate 10, Mate 10 Pro, Mate 20, 20 Pro, 20 Pro X, 30, X, Xs, P20/ Pro, P30/ Pro, P40/ Pro, Honor Note 10, View 20.
Smartisan Pro 3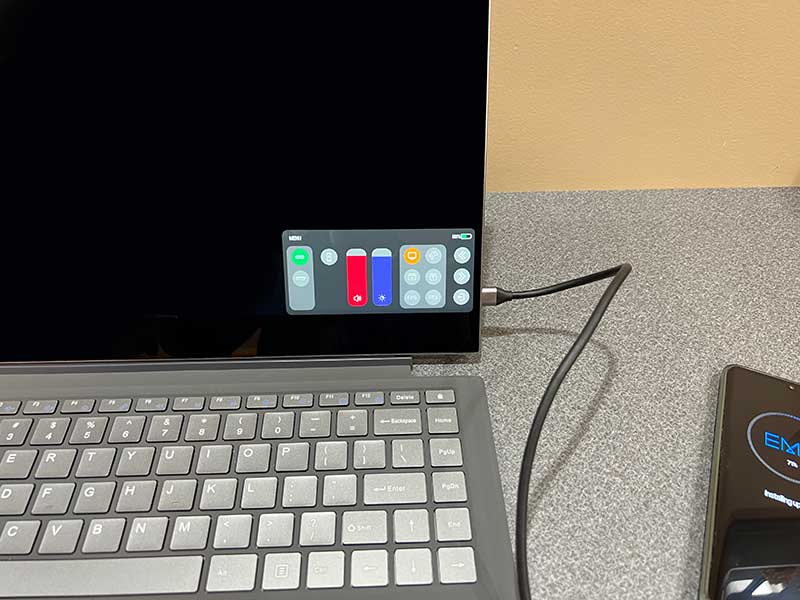 The UPERFECT also has a touch-enabled OSD menu that makes it easy to adjust brightness, color, and a variety of other settings.
Video quality
When it comes to video quality, the UPERFECT X Pro Lapdock's display is bright, vibrant, and crisp. The glossy display can have some glare issues depending on where you're using it, but I prefer glossy screens to matte screens because they are easier to clean when smudges and fingerprints become an issue.
I'm also happy to report that the viewing angles of the UPERFECT X Pro Lapdock are very impressive. You can be at almost a full 90 degree angle and still see the display.
What I like
Turns a Samsung Galaxy phone with DEX compatibility into a laptop with a keyboard and trackpad
Doubles as a second monitor for a laptop or desktop
What I'd change
Allow the keyboard and trackpad to be connected to devices via Bluetooth. This would allow HDMI only connections to be more useful
Final thoughts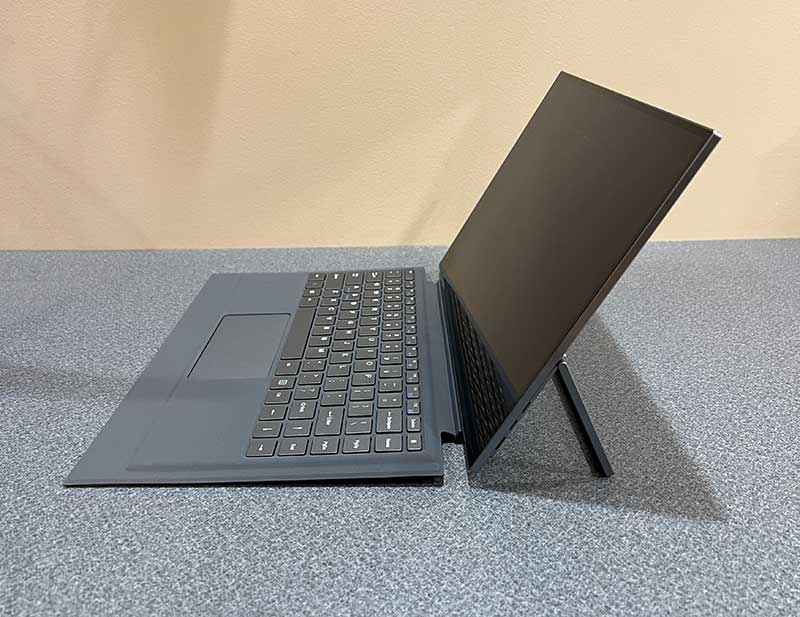 As a second monitor, the UPERFECT X Pro Lapdock is a bit overkill, but when used with a Samsung phone with DEX capability, it effectively becomes a workstation with full laptop powers. You just have to ask yourself if it's worth $550 to turn your phone into a laptop that you can't really use on your lap due to the lack of a true hinge between the removable keyboard and monitor.
Price: $549.99
Where to buy: UPERFECT and they have products on Amazon too