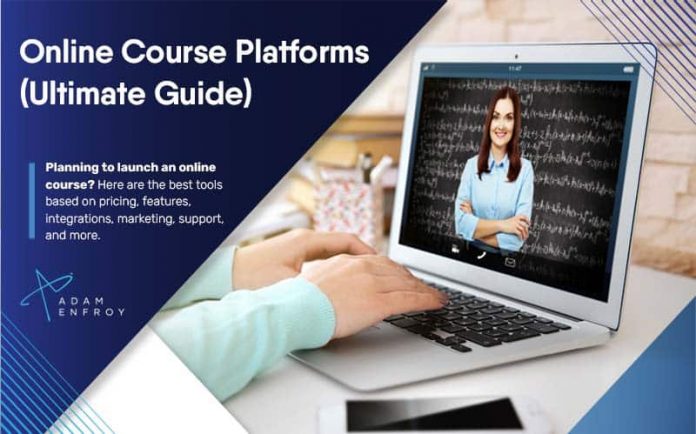 The e-learning and online course market are soaring to new heights and estimated to be worth $325 billion by 2025.
With the acceleration of online learning due to social distancing, this industry is experiencing huge growth.
Why not tap into this market and sell online courses? 
If you have experience in a field and want to share your knowledge with the world, all that you need to get started is an online course platform.
These online tools let you:
Create an online course website (or integrate your course within your existing website).
Price your course and collect payments (either one-time or in installments).
Create membership communities and webinars.
Upload your videos, add assignments and quizzes, creating interactive content, and engage with your students.
Market your course to build your online presence.
So where do you get started and which platform is best?
After (a lot of) trial and error, I ranked and reviewed the 15 best online course platforms to use this year. I also provide the top ten ways to create and sell online courses.
This ultimate guide ranks and compares software based on reliability, features, marketing tools, profit potential, technical support, pricing, and more.
Let's get started.
What Are Online Course Platforms?
Online course platforms are types of learning management systems (LMS) that provide users with access to digital classes. These virtual courses are similar to offline classes in a lot of ways: an instructor provides an engaging educational experience through video, image, text, audio, and PDF files.
Students follow along with the LMS software, take notes, perform exercises, and complete exams to test their knowledge.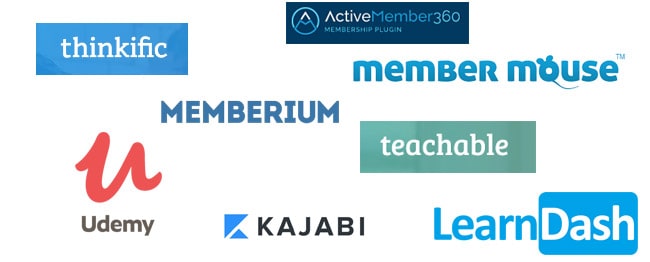 Tools like Teachable, Thinkific, Kajabi, Podia, and Ruzuku all feature a robust feature set for course creators.
Their course software includes a dedicated fully-responsive website experience, easy content uploads, the ability to edit the look and feel of the class, marketing features, course completion certificates, a sales funnel, and more.
If you're an educational institution looking to replace your on-premise classes with online learning, you can check out my other guide to the best learning management systems (LMS).
Course creators choose a platform to use, then charge their students a set fee to access their courses.
What Are the Best Online Course Platforms?
The best online course platforms give the freedom to spend more time teaching your students and automating your sales processes.
In my opinion, the best online eLearning platforms are Thinkific, Learnworlds, Teachable, Kajabi, LearnDash, and Podia.
To be successful, you need to be able to create, organize, and deliver your course content efficiently. You also need a platform that matches your unique needs.
For example, if you're looking to start a blog and sell online courses, look for the features that coaches would need like paid memberships, WordPress integrations, ecommerce capabilities, etc.
Here are my top picks for the best online course platforms to use this year.
Best Overall Online Course Platform (Free or $49/mo)
Thinkific's mission is to power your education empire. They are one platform with a robust set of user-friendly features, email marketing tools, membership site integration for your lessons, and excellent 24/7 customer support.
They are my #1 choice because they are indeed the only platform you need to create and sell your online courses.
First, you can sign up and get a One-Month Free Trial for their most popular Pro Plan. If you want more course sales from the start, this plan gives you the ability to create unlimited courses. It also features memberships and bundles, advanced pricing options, landing pages, certificates, and marketing tools.
Next, you create and customize your course with their drag and drop editor, as shown on Thinkific.com: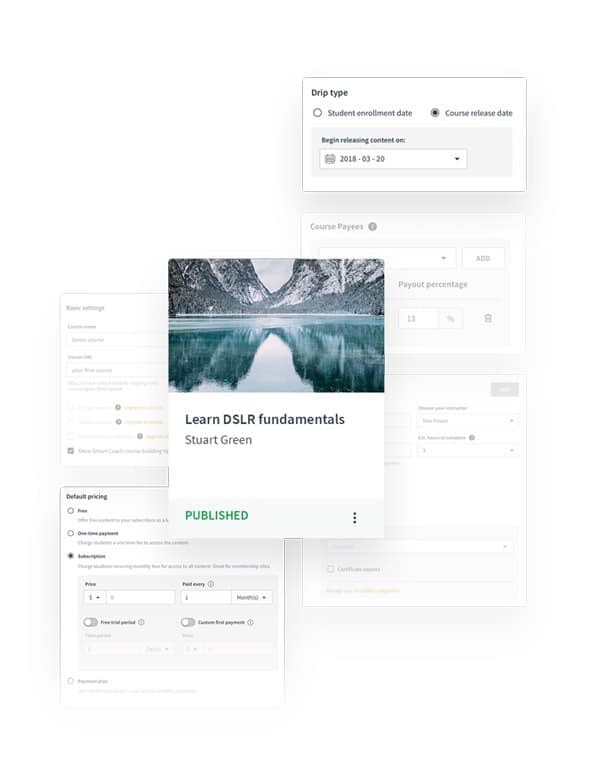 After you add in your course content, you build your course site with their high-quality, well-designed templates: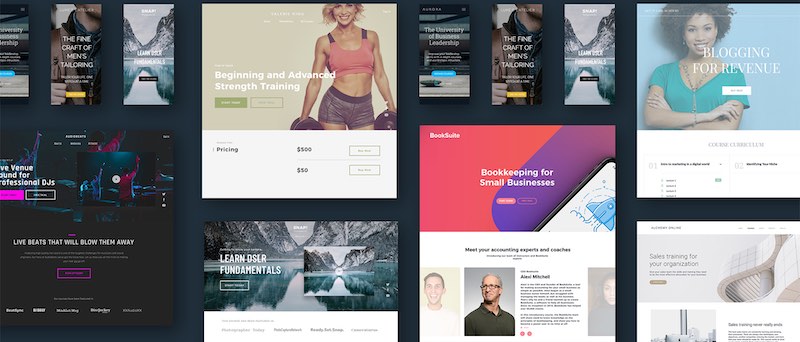 Finally, you can market and sell your course with its advanced business tools: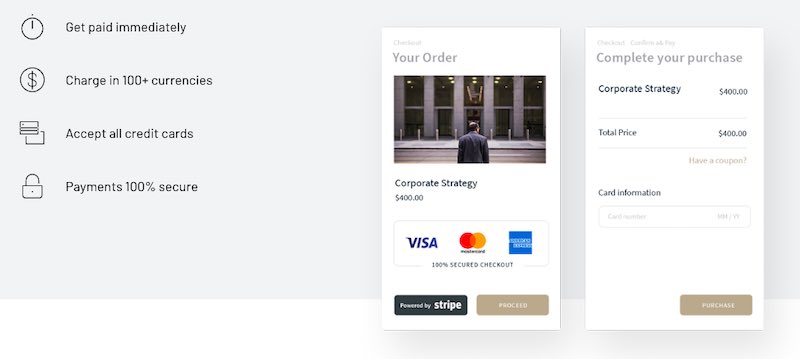 You can easily integrate Thinkific with over 1,500 apps by using Zapier without the need for a WordPress plugin. By hooking up with your email provider, you can send highly targeted campaigns to the right segments of your audience at the right time.
I recommend the Thinkific platform as my #1 choice for course creators and entrepreneurs who are serious about creating, marketing, and selling their online courses.
You can get started today with a One-Month Free Trial of their Pro Plan with my link below.
Best for Premium, Interactive Learning Experiences ($24/month)
Learnworlds is at the future of eLearning and has everything you need to create and sell an online course – and keep your students engaged.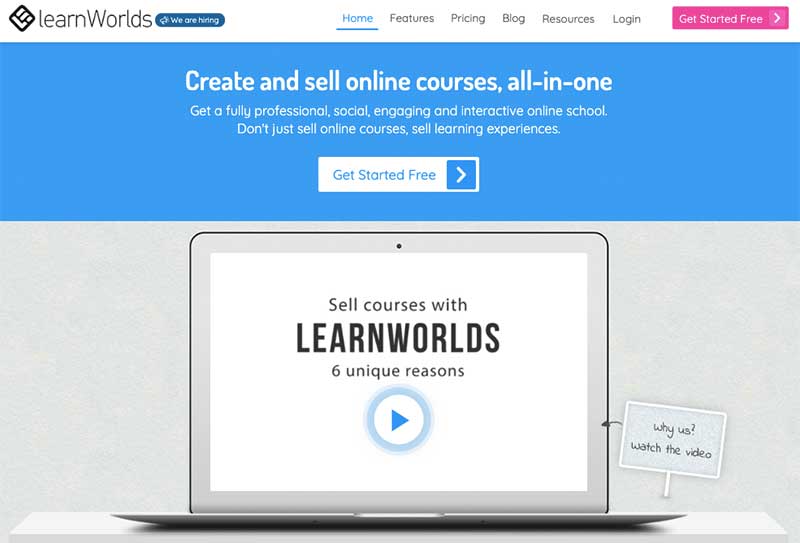 Learnworlds is a great online course builder and my overall #2 choice. It's best for course creators looking for an interactive course experience and student engagement. If you're looking for a free option, Learnworlds is not for you.
However, if you're looking to create an interactive learning experience with questionnaires, tests, and engaging elements, Learnworlds is the best choice.
The first step is creating the look and feel of your online course with their custom landing and sales pages. You can use their library of responsive templates and styles to build your course site and even add additional information pages – About, Pricing, Contact, etc. – all easy to make with Learnworlds.
You can use their theme editor to customize the branding and color scheme of your course with minimal coding knowledge.
Next, when you're ready to build your course, you leverage their pre-made course catalogs and add in your content. These catalogs include advanced features like interactive video players, online tests, interactive e-books, and downloadable attachments.
Your students also benefit from this customized approach. When taking your course, they can take notes, highlight important points, and get certificates of completion.
When you want to market your course, you can use a full custom domain and white-label your content. For example, Learnworlds will create your custom mobile app for your course and provide coupons and discounts to market to your students.
Finally, they offer social media integrations, a new analytics platform to optimize your sales, the ability to create membership sites, a strong knowledge base, and 24/7 support.
Get a free 30-day trial at my link below and start building your online community.
Best Online Course Platform for Beginners ($29 – $299/mo)
Teachable is my #3 choice for e-learning platforms. By creating an account, you're joining 22,000 other instructors creating excellent teaching platforms for their students.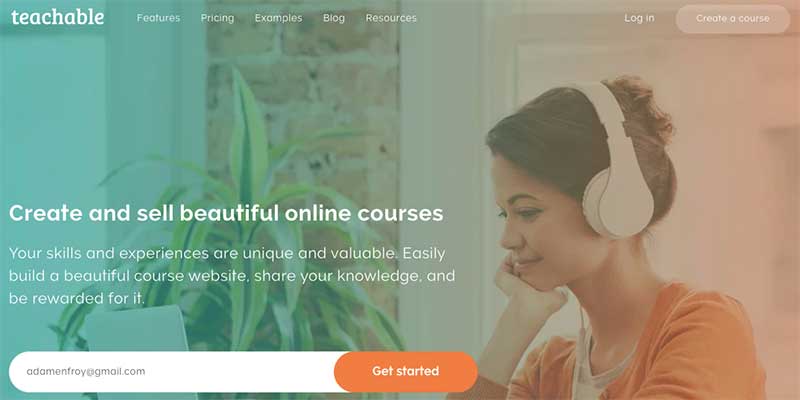 You can choose to use the online course platform for free (with $1 + $0.10 for all transactions) or select one of their three plans ranging from $29/month to $299/month.
I recommend their most popular Pro Plan with the premium course creations bundle at $119/month as it's the first plan with zero transaction fees. It also has graded quizzes, custom completion certificates, advanced website theme customizations, and support for up to 5 admin users.
It's pretty effortless to upload your content, edit the look of your online school, and engage with your students – all without separate web hosting.
Get started with your Teachable plan and get a premium course creation bundle.
Best High-End Online Course Platform for Professionals ($119/month)
Kajabi is a high-powered course builder for in-depth courses. It features powerful course site themes, robust email marketing automation, upsells and digital products, a customizable checkout, and blogging functionality.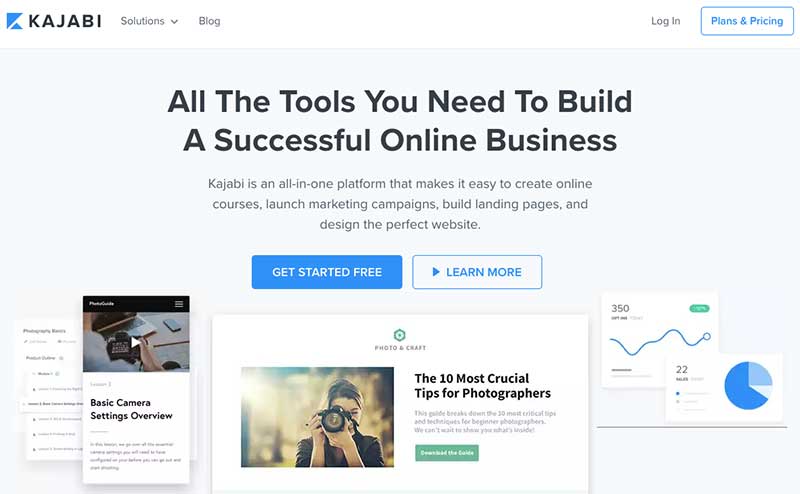 Their plans are a bit expensive, starting at $119/month, including the 20% annual discount. However, they really know what they're doing as they're trusted by more than 16,000 businesses and have processed more than $675 million through their platform.
Their $119 basic plan gives you one website, three products, three pipelines, unlimited landing pages, unlimited marketing emails, and up to 1,000 members and 10,000 contacts. Their higher-tier plans increase the number of websites, products, pipelines, and contacts, so you can choose a specific plan based on your needs.
Where Kajabi really excels is its marketing automation tools. You can segment users in your list, send emails at certain times based on advanced triggers, and send professionally-branded messages.
If you're an established business and want to try one of the more advanced platforms on the market, Kajabi is a solid choice.
Start your free 14-day trial. 
Great LMS for WordPress Users ($13.25/month)
LearnDash is an impressive online course platform that integrates with WordPress. Some big websites using LearnDash include Yoast, Infusionsoft, the University of Michigan, and WP Elevation.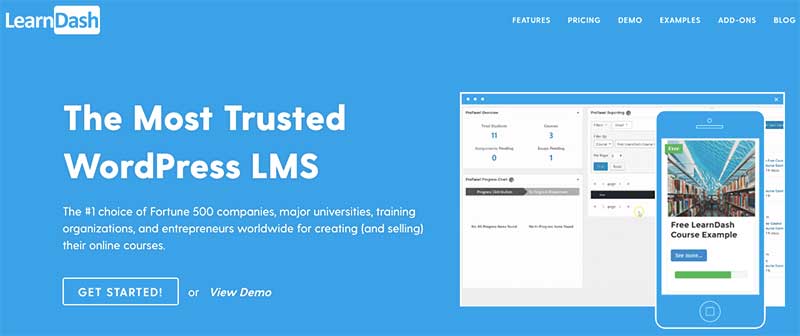 One of their first helpful features is their "Focus Mode," which blocks out all distractions when students run through a course.
LearnDash's full-featured course builder meshes well with their email drip campaigns. You can build a great online course and match your content with an email drip schedule to send lessons according to a program.
Their Gradebook* technology takes LMS to another level. This technology gives students an overall grade based on quiz and homework scores, creating a weighted average for teachers to review.
In addition to grading, course points award points for actions, and badges and certificates award students for course activities.
If you're a teacher looking for grading systems that compete with the features of college curriculums, LearnDash is a fantastic choice.
You can get started today with a $40 discount and full 30-day money-back guarantee on their annual plans.
Great for Digital Downloads and Webinars ($39/month)
Podia allows over 11,000 users to create, host, and sell their lessons with one easy-to-use platform. There are no transaction fees, and a simple three-step process has your course website up in no time.

Although they don't charge fees, their payment processors have transaction fees of 2.9% + 30¢.
Other features include the ability to add coupons and memberships, pre-launch courses, add sales pages, and leverage "drip" courses. This feature gives access to individual sections of the course at a time, helping students learn in the correct structure.
Where they excel is with membership options. You can grow your own online community by interacting with members, bundling products for specific groups, offering tiered plans, and connecting with Facebook Groups and Slack.
Podia also lets you host webinars – either live or on-demand. You can sell these webinars or provide them for free to build your customer email list.
Another awesome feature is the ability to run your own affiliate program inside of Podia. You can view all of your affiliates in one place, view helpful reporting, and make payouts based on your own customized commission structure.
Overall, if you're looking for strong membership functionality and the ability to increase your sales with the help of affiliates, Podia is a unique and worthwhile course builder to try out.
You can sign up and give it a test run with a free 14-day trial.
The Ridiculously Easy Online Course Platform ($74.75/month)
Ruzuku allows you to create a step-by-step online course with their learning platform, PDFs, and text in minutes.  You can quickly create course outlines, edit and reorder your steps with ease, launch your course, and generate sales in no time.
Ruzuku integrates with tools like MailChimp, Infusionsoft, and payment gateways like Stripe and PayPal to accept payments – and they don't charge transaction fees.
They're also known for their desirable community. When you join Ruzuku, you're not buying a teaching tool; you're joining a team to help your students learn.
Called "the ridiculously easy course creator," Ruzuku comes with some excellent features listed below: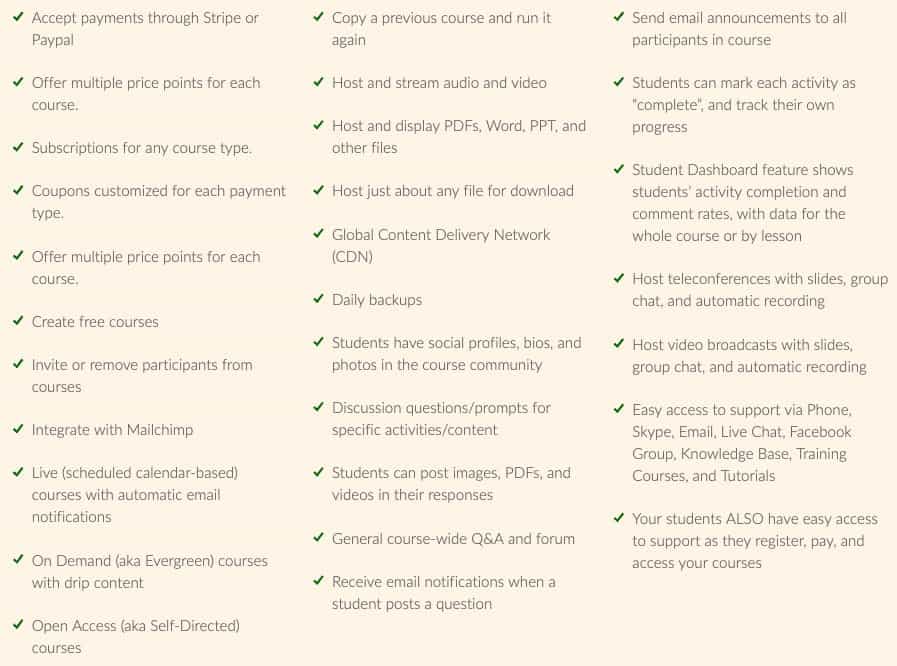 Finally, their platform offers unlimited courses to unlimited students on all paid plans.
You can get started with a 14-day free trial and 30-day money-back guarantee.
The Enterprise Platform That is Custom-Built to Your Business Needs ($499/month)
Academy of Mine is a high-end eLearning platform founded on personalized customer success and philosophy of customization. A standard feature of any plan is completely free development hours to help set up and launch your course with customized integrations.
One of their goals is not just to set you up and help you launch. They also want to help sell your course with their marketing tools and analytics dashboards.
Personalization is at the heart of its strategy. Are you a healthcare company that wants to create a full curriculum for continuing education credits (CECs)? They can help with that.
Are you an insurance company that requires continued training due to constant changes in a particular legal code at the state level? Are you looking to create online courses to manage your facility?
That's also no problem with Academy of Mine.
While these enterprise offerings may be overkill for typical users, they are necessary for small to medium-sized businesses needing a robust training system for their employees or clients.
If this sounds like the eLearning solution you're looking for, you can get started today with their 30-day free trial.
What Are the Best Online Learning Platforms?
Now for the student's point of view.
With social distancing becoming the norm and many colleges moving to online classes, there are plenty of ways to educate yourself from home.
Often called massive open online courses (MOOCs), they are slightly different than paid platforms. Instead of hosting files yourself, courses are in a marketplace where students pay for them directly, or via a subscription.
The benefit for course creators is that you can leverage these websites to reach a new audience. The downside is you won't earn as much money per sale, and there is stiffer competition in the market.
Ultimately, I recommend using one of the providers above to sell courses.
If you're looking to sign up for a platform to learn new things, here are my picks for the best online learning platforms.
Shaw Academy is a platform that gives its students access to professional, accredited online courses. Students sign up for Shaw Academy and get access to all of their long-form courses.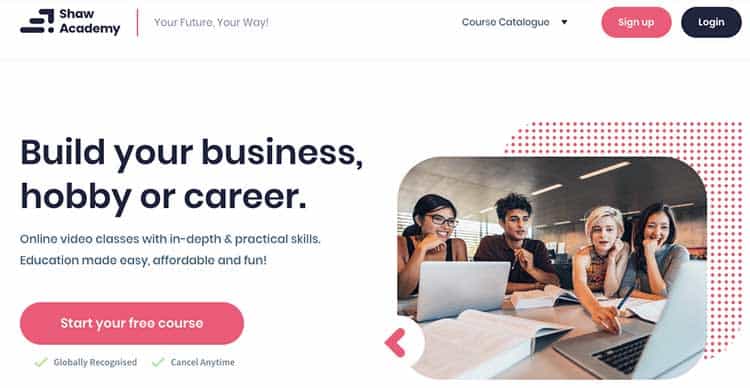 They offer courses in three distinct categories: for hobbyists, for professionals, and for entrepreneurs.
For example, in their "For Professionals" category, they offer a globally-recognized Digital Marketing Course. This course includes 32 videos and takes an average of 16 weeks to complete.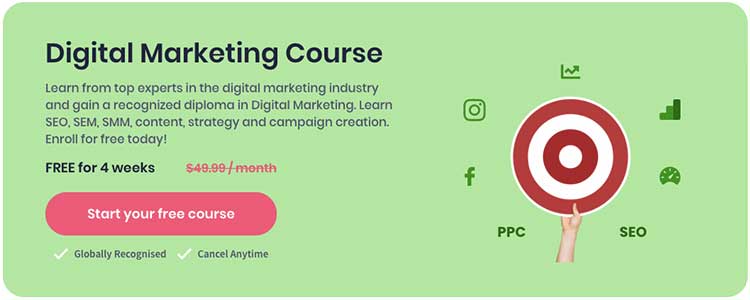 What Does Shaw Academy Cost?
Courses are offered for free for the first four weeks. You can then continue learning by paying for a monthly plan.
The cost then ranges from $49.99 to $60 per month.
Shaw Academy Pros
Their courses are all globally-recognized and offer certifications to help you in your career. If you're a working professional, their classes on digital marketing, project management, web development, Photoshop, and Microsoft Excel are very in-depth.
Entrepreneurs can also access helpful classes on social media marketing, viral marketing, wedding, photography, etc.
Their courses are all flexible and you can complete them on your own time. They also offer helpful support and the ability to download class recordings to watch them offline.
The four-week free plan is also a great bonus too.
Shaw Academy Cons
Although they offer a lot of good courses, you may not find the right one for you depending on your industry. They also don't have the same volume of hobby classes as platforms like Skillshare.
Shaw Academy Review: Final Verdict.
If you're a professional looking for flexible, accredited courses that you can start completely free for 4 weeks, this platform is a great choice.
Skillshare is a large marketplace focused on creative education. Topics include anything from graphic design and music production to fine art and cooking.

They also have classes on more technical topics like data science, analytics, and e-commerce. Skillshare has over 24,000 lessons, more than 4 million students, and over $5 million paid to teachers.
Each Skillshare class is 20-60 minutes broken down into shorter lessons, plus projects and a community discussion forum to connect with other students.
The open discussion is very beneficial for their creative topics, as students can share their progress and get feedback from others. Skillshare also can help premium members with production, course planning, and can even help with online course creation at their studio in New York.
What does Skillshare cost?
Skillshare is free for creating a premium course experience. They pay instructors $10 for paid membership referrals and monthly royalties for each minute of content watched.
Skillshare Advantages
They have a large user base of creators and entrepreneurs. If you are offering content that would be suited for a creative audience, Skillshare is a great platform to get noticed.
Lessons on web design, email marketing, photography, painting, personal branding, and creative topics are the most popular.
The quality of the classes is reliable. Skillshare prides itself on professional, high-quality courses. They can help with outlining your course based on the needs of their audience, and can also assist with production.
Skillshare Disadvantages
Earnings run through a royalty system. Each month, between 30 and 50% of Skillshare's premium subscription revenue goes to a royalty pool for teachers.
The remaining funds go to marketing and promoting classes, supporting the platform, and running day-to-day operations. This royalty system works for well established Skillshare teachers, as the more minutes watched, the more revenue share you receive.
However, this makes it difficult for new instructors to receive much compensation when they're just starting. Plus, students who watch at 2x speed only count as half the minutes toward the royalty pool.
Another disadvantage is they only offer email support. Although Skillshare has helpful support articles, the only option to contact them is via email.
Skillshare Review: Final Verdict
Skillshare is an up and coming online course marketplace with over 4 million students. With a large user base of creators and entrepreneurs, Skillshare is a great option for instructors in creative fields.
Their classes are all high quality, and they can help make sure that your class will best match the needs of their audience for maximum impact.
However, based on the royalty system for earnings, and no live support, you may be able to make a lot more sales with a marketplace like Udemy. If you're a creative course creator and want to reach a new audience, their online courses are worth a try.
Sign up with Skillshare and get 2 months of free classes.
LinkedIn Learning (formerly Lynda) is another online course marketplace tailored to business professionals. With over 1,000 business courses on topics like project management, web development, and digital marketing, they're an excellent platform for working professionals looking to keep their skills up-to-date.

They also offer certifications that you can add to your LinkedIn profile, showcasing your expertise and improving your online resume.
What does LinkedIn Learning cost?
Monthly fees tie to a premium LinkedIn membership, which is $29.99/month or $24.00/month if you pay annually.
Try LinkedIn Learning today and get one month free.
Udemy is one of the best online course platform marketplaces with over 24 million students, 35,000 instructors, and unbelievable 80,000+ courses. The first step to creating a course on Udemy is to sign up to be a premium instructor.
Once your account is approved, it's effortless to get started creating your courses. When creating your video content, keep in mind the material has to be at least 30 minutes long and contain five lectures.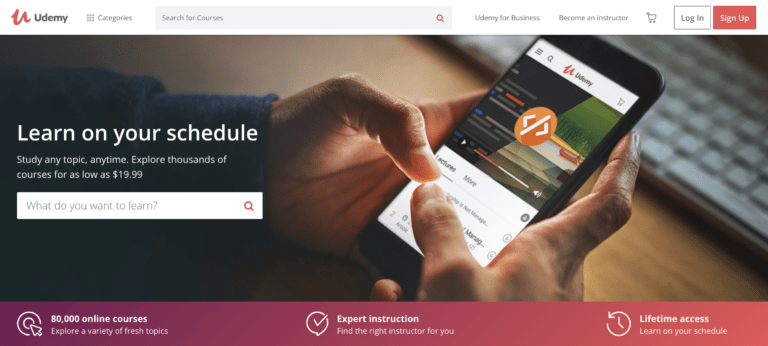 Another benefit to adding your course on Udemy is that you can easily promote your class inside their platform. You can use their marketing features to be included in site-wide discounts, be placed in their marketing emails, or join their affiliate program with tiered commission rates.
What does Udemy cost?
Udemy is free to use. They charge a 3% rev share for sales through instructor coupons, 50% for students who found your course through organic search (SEO), and 75% for transactions made through paid search marketing efforts.
Udemy Advantages
You get access to a large user base. Udemy's 24,000 users are all potential students who will pay for your course. But just because you're on their platform, it doesn't mean you'll start raking in sales right away.
You have to develop a strong marketing and sales strategy, much like a new e-commerce company, author, or real estate agent. It's all about getting your name out there.
They provide a substantial revenue share for tuition fees. Udemy instructors set their course prices and receive revenue at 100% of the tuition fee for new users and 50% for existing users. That's a substantial commission on sales and a massive benefit to using their platform.
You can participate in Udemy marketing promotions. Every so often, Udemy runs promotions that can help you reach a larger audience on their platform. These marketing promotions are opt-in, so instructors can choose to participate or not.
They have reliable technology and support. Udemy offers free 24/7 support, and they also have a vast library of helpful articles.
Udemy Disadvantages
There is intense competition with other courses. Udemy instructors are at the mercy of the placement and appearance on the Udemy website, which is controlled by their proprietary algorithms.
It can be difficult to outrank other instructors on particular topics if you're new to the platform.
There is also stiff competition with other course publishers. Udemy isn't the only course marketplace ranking on search engines for your course topics.
Other marketplaces like iSpring Learn, LinkedIn Learning, Coursera, and Skillshare can compete with Udemy in organic search, which can be a disadvantage for Udemy instructors.
They have lenient return policies. Refunds are guaranteed to all students within 30 days for any reason. Because of this, students could take a course, complete it within 30 days, and get a guaranteed refund – decreasing your sales.
Udemy Review: Final Verdict
Udemy is one of the most well known, widely used, and professional online course marketplace out there. With a robust rev share model, a vast audience to tap into, 24/7 support, and marketing offerings, you can't go wrong with their platform.
Although there is healthy competition with other course creators and platforms, the company is likely to maintain its lead in the market.
Try Udemy today.
Treehouse is a relatively new marketplace that believes in the democratization of education. Their platform is "committed to making education accessible to students of all races, genders, sexual orientations, and socio-economic backgrounds."
They feature 300+ technical courses on coding and development, over 50,000 students, and over 27,545 minutes of video (and counting).
Treehouse partners with some big names, including Microsoft, IBM Watson, Amazon Alexa, and Google Developers.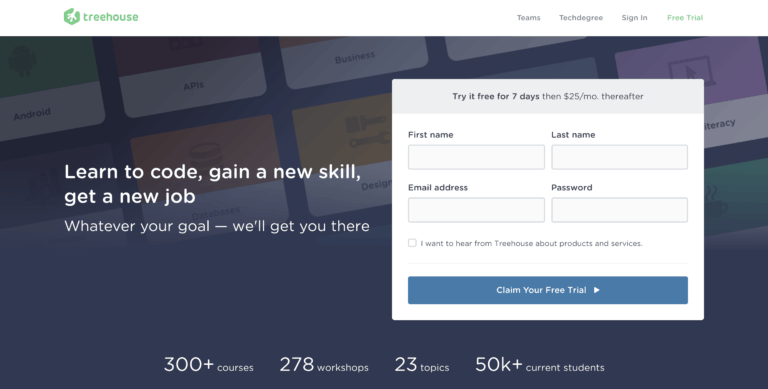 What does Treehouse cost?
Treehouse offers a 7-day free trial. Then you can choose from three different plans ranging from $25 to $199 per month.
Their basic plan features on-demand courses, interactive practice sessions, and access to their online community.
The pro plan gives you access to bonuses, beta features, and downloadable content.
And if you're looking to create a real portfolio and get job-ready skills, their Techdegree plan gives you personalized feedback, real-time support, and a custom curriculum.
Try Treehouse today.
Coursera is a professional online course marketplace with virtual classes from some of the world's best companies and universities like the University of Michigan, Duke, and Stanford.
Instructors teach Coursera courses at some of the world's top universities, take about 4-6 weeks to complete, and include video lectures, peer-reviewed assignments, and community discussion forums.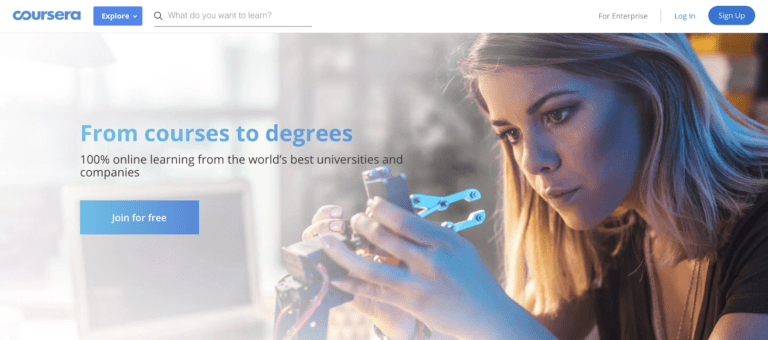 What does Coursera cost?
Coursera is free to join, and you must be logged in to see pricing information on individual courses. There are three tiers of class offerings at Coursera.
Main courses run on a subscription basis and cost $29-99/month. These take the standard 4-6 weeks to complete, and you receive an electronic course certificate upon completion.
Specialization courses are for mastering a specific career skill and cost between $39-79/month. In these online courses, you tackle real business challenges with hands-on projects and more rigorous coursework.
Online degree programs. If you're looking for more advanced education, you can even take part in university-recognized online degree programs. These take 1-3 years to complete and cost anywhere from $15 to $25,000.
Try Coursera today.
How Do I Create and Sell Online Courses?
The first step to sell online courses is to start with your end goal in mind and work backward. How are you going to transform your students' lives and how will they be different once they've completed your course?
You should start your course by planning the transformation your students will achieve.
To understand what your students want to learn, hang out in forums related to your topic, and look at the top questions people are asking. Quora is an excellent place for this.
Once you understand how you can solve your student's problems, create a clearly defined learning path that will guide them to a predetermined goal. During each stage of the course journey, make their outcomes clear.
By setting a learning path and clearly defined end goal, your students will stay more engaged and active with your content.
Here are the top 10 ways to create and sell online courses.
1. Figure Out the Cost to Develop Your Online Course.
The cost to develop your learning platform depends on many factors, including depth of content development, research and analytics expenses, and marketing. Studies estimate that a professional online course can cost between $5,850 and $15,600 to produce.
However, that's a pretty high estimate, including professional video development, paying a subject matter expert (SME) to teach the course, market research, email automation or webinar software, and promoting the course.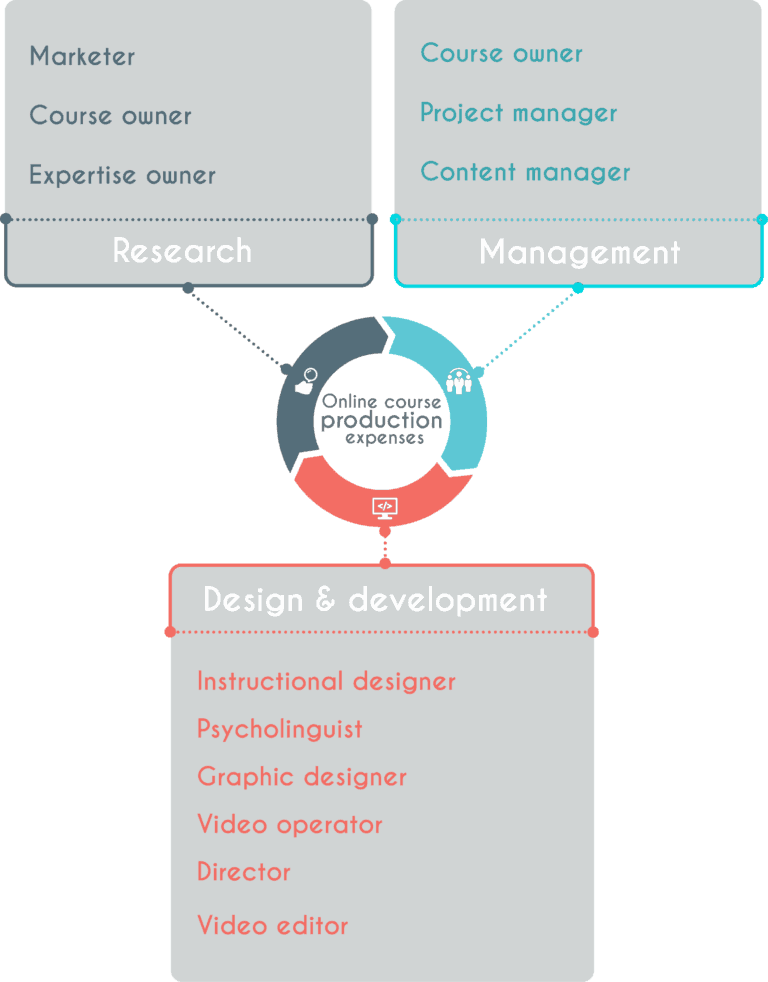 If you're starting and want to create a course yourself, it can be much cheaper. For example, if you have a quality webcam, a microphone, screen sharing tools, and video editing software, you can create a course for under $200.
Your most significant investment is time. Keep in mind that costs rise with your effort. The more effort you put into analyzing your audience, market research, creating an outline, and shooting professional media with an engaging instructor, the higher the cost.
2. Use the Best Software and Equipment.
Creating a course isn't as simple as add a webinar to a website. You need to produce the course first!
Software and equipment are required to create high-quality content. Remember, you're replacing an in-classroom experience with a virtual course, so it needs to look professional.
However, you don't need the most expensive, high-end equipment to get started – but you will need a few essential items.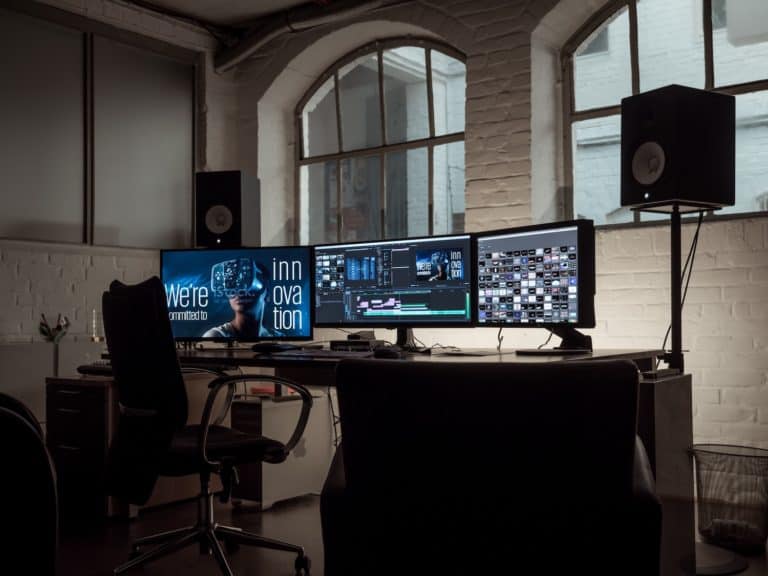 1. Microphones
Microphones are crucial. Bad audio is much easier to detect than shaky video, and you need a quality microphone for your course to sound excellent.
Use the best microphone you can afford. You can use a standard receiver, lavaliere mics, or even a headset, but I recommend a USB microphone.
One of my favorites is the Blue Yeti. And don't forget to get some microphone accessories to improve your audio quality further. Pop filters, foam balls, shock mounts, and acoustic panels are critical if you're recording in a small room.
Try the Blue Yeti microphone.
2. Headphones
Having a good set of noise-canceling headphones will help tremendously during the editing process. They also come in handy when conducting interviews and recording someone.
Try the Audio-Technica ATH-M50x.
3. Screen recording program
If you're creating a class on a piece of software or computer program, you'll have to show the screen to highlight the work you're doing. There are lots of options when it comes to screen recording software, but one of my favorites is Screencast-o-matic.
4. USB Webcam
Mostly all online courses will require live webinars or videos of an instructor for a personal classroom feel.
Recording equipment can include something as simple as your iPhone or a webcam, or run up to professional DSLR camcorders. The most significant factor is your budget.
On the cheaper side, the Logitech C920S is an excellent 1080p USB webcam.
5. Audio and video editing software
Once you're done shooting your course, the real magic happens with editing. Some of my favorite options include Apple Final Cut Pro and Adobe Premiere Pro. If you're looking to spruce up your animations, try Adobe After Effects.
6. Lighting and accessories
Quality three-point-lighting is crucial to ensure your instructor shines (pun intended). You can purchase a full studio light set or only some accessories for your iPhone.
Either way, you'll want to research interview lighting techniques certify you look professional.
3. Create Valuable Content.
This one is a no-brainer. You need a detailed vision of who your ideal students are and what they are interested in learning. Do they want to develop a new skill and earn an online certificate? Do they want to help grow their own business? By understanding your audience's pain points, you can create a vision for your course.
Create compelling video courses. Use video plus interactive worksheets, PDFs, quizzes, and other elements to engage with your students on a deeper level. Also, make sure to condense learning into shorter sentences – no one wants to read long paragraphs.
4. Differentiate Your Website.
Focus on your niche and provide the absolute best content with a focus on your unique value proposition (UVP). Unless you want to become the next EdX, you have to specialize and be the best at an exceptionally focused niche.
Offer an exclusive hook statement and differentiate your course's UVP out of the gate. Ask yourself: What makes my course different than the rest? For example, if your niche is graphic design, don't create a course called "Graphic Design for Beginners." That's too broad. A class called "Adobe InDesign for Ebook Publishers" is more focused and more natural to market.
Don't focus on too many different areas. Your online course should have one focal point and not stray away from it or go off-topic. Only after you see some initial success with your teachings should you diversify into other topics.
5. Take Time to Market Your Business.
After pouring all of your hard work into creating your course, your job is just getting started. Now you need to market it.
You need a dedicated website. To help people find you and view you as an expert in your field, you need a professional web presence. Your website should have an active blog with content related to your niche, which is search engine optimization (SEO) optimized.
Build a social media following. Create your own Facebook Business page so that you can engage with your community. Share your latest updates on Twitter and Instagram. Having a regular post schedule and providing engaging social media content will help build a community behind your brand.
6. Have Control Over Your Brand.
You should have complete control over your brand. You should be able to set your pricing and policies, incorporate your logo, and make the experience consistent with your business.
If you are developing your brand, you should be the face of the course and have the ability to showcase your personality in the class design.
7. Deliver an Exceptional Learning Experience.
The platform should deliver a great learning experience. You should include multiple content types like audio, text, documents, and more. Other features to look for include the ability to create quizzes and send completion certificates, forums, and "drip" courses sent to students over time.
8. Integrate with Other Tools.
Choose a platform that integrates well with other solutions. You're going to want to make sure your learning platform can work with other tools like email marketing services, analytics solutions, and more.
Check for popular integrations with tools like MailChimp, Google Analytics, WordPress, and more. For example, if you started a blog and are selling courses with a WordPress site, you need to choose a platform that can easily integrate into your current website.
If you do want to create an online course business with WordPress, you can search their plugin directory for a list of the right plugins:

9. Align Sales with Your Budget in Mind.
The platform should fit your budget and offer flexible pricing options. To make money selling online courses, you need to spend money. But by looking into pricing information first, you get a better understanding of your potential return on investment.
10. Leverage Customer Support if You Need It.
The platform should offer excellent customer support and training. A lot of services offer free resources and training, a dedicated account manager, and a helpful instructor community that can help you succeed.
Make use of those resources if you're stuck – don't be afraid to ask for help.
What Are the Most Popular Online Courses?
Whether you want to sell online courses from your website or use another platform, it's crucial to have a good understanding of the most popular classes this year.
It's challenging to come up with great ideas to engage students. The Online Course Report recently came out with their list of the 80 highest rated on-demand courses. Their catalog includes some of the most popular and highly rated online courses:
1. EdX: The Science of Everyday Thinking
The most popular course overall.
2. Udemy: The Complete Web Developer Course 2.0
The highest-rated course on Udemy.
3. Udemy: SEO Beginners: How I Get 1,000 Visitors a Day with SEO
This SEO class is the most popular entrepreneurship lesson on Udemy.
4. Coursera: An Introduction to Interactive Programming in Python
The most popular developer course.
5. Treehouse: JavaScript Basics
The most popular developer class on Treehouse.
As you can see from this list, students are looking for highly informative, impactful education. Now you don't need to top the list to be successful.
But you need to create classes that are not only high quality but also train your students on topics they love.
That's a Wrap
Online courses can help you launch a side hustle, grow your audience, teach students the topics you care about or make money online faster.
When choosing between the best online teaching platforms, remember to do your research: consider the time restrictions, monthly costs, and marketing features available.
Each platform allows you to easily upload your content, provide training for your students, and generate sales. But the critical factor is you.
The success of your course ultimately relies on the quality of your content and how well you can market yourself.
A platform is just that, a platform. Yes, it's a branded, engaging, interactive piece of media with your insights and experience, but it still needs planning, market research, development, and most importantly, marketing.
When choosing between the best platforms, you must ultimately decide the features that are right for you. There are endless amounts of topics to teach, and millions of students ready to learn from you.
Why not get started today?
If you're ready to start creating and selling online courses, I recommend you get started with Thinkific.