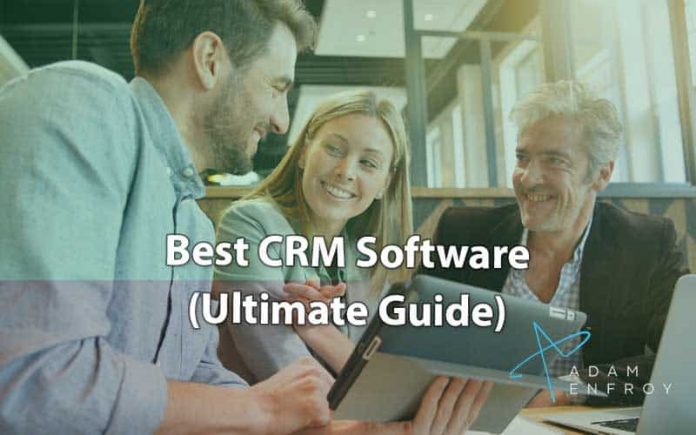 As competition for leads and sales grows, sales teams and business owners need a better way to track customers through every stage of the buyer journey. This is where CRM software comes into play.
Customer relationship management (CRM) software aims to nurture these customer relationships across various channels, ensuring an excellent experience for customers, and ultimately guiding them down the sales funnel.
CRM tools help manage and improve company interaction within a database by leveraging email marketing, lead nurturing, and marketing automation.
These tools also help sales and marketing teams improve their database marketing by sending personalized messages to the right prospects at the right time.
To make your decision easier, I ranked and reviewed the best CRM software based on features, integrations, sales capabilities, marketing tools, support, pricing, and more.
Let's get started.
What is the Best CRM Software?
After using a ton of different CRMs across numerous tech companies, here are my top picks for the best CRM software to try this year.
Best Free CRM with Marketing Tools.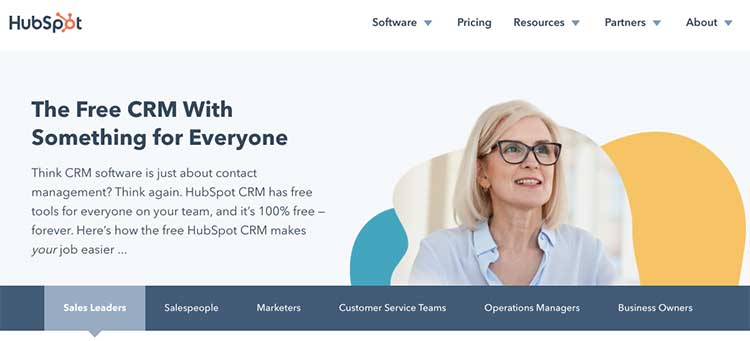 HubSpot CRM is a full-featured marketing suite, with its CRM software being their most popular offering.
HubSpot CRM is great for sales professionals due to its great features and time-saving tools. It's also a strong option for marketing teams with the ability to capture, track, and grow leads within a database.
They offer a 100% free version of their software, with the ability to upgrade and get access to their entire suite of marketing tools.
Key Features:
Email and Lead Nurturing – You can send free, personalized emails, and track your results with built-in analytics reports.
Contact Organization and Management – You can connect your email inbox to their CRM and automatically sync and organize your contacts in one place.
Over 300 Integrations – Easily connect your existing tech stack go get more functionality out of the tools you're already paying for.
Live Chat and Chatbots – Help customers faster with support tickets, productivity tools, and instant chat capabilities.
Sales Pipeline Data – Sales leaders can view their entire sales pipeline with insights into sales activity and individual performance.
Pros:
A free plan that you can upgrade at any time.
Integrated with their sales and marketing suites, which include live chat, landing pages, email marketing, ad management, document management, and more.
Free email marketing and list segmentation.
A team email and conversations inbox for access to all messages in one place.
A great form builder to capture lead information.
Ad management tools to track ROI across paid campaigns on Google, Facebook, Instagram, LinkedIn, etc.
Pricing Plans:

HubSpot CRM has a free plan that offers a lot of great features to start with. You can then choose to upgrade to one of their paid plans:
Starter ($40/month): All features of the free plan, plus additional forms, up to 50 email list segmentations, $1k in ad management, 10 reporting dashboards, and limited conversational bots.
Professional ($800/month): All features of free and starter, plus 2,000 email list segmentations, $10k in ad management, 25 reporting dashboards, and full chatbot features. This plan also opens up additional features like phone support, content strategies, an SSL certificate, and a blog.
Enterprise ($3,200/month): All features outlined above (with higher-tier options), plus user roles, event-based segmentation, predictive lead scoring, API calls, multi-touch revenue attribution, webhooks, and more.
Get started with HubSpot CRM.
Best CRM For Small Business (SMBs).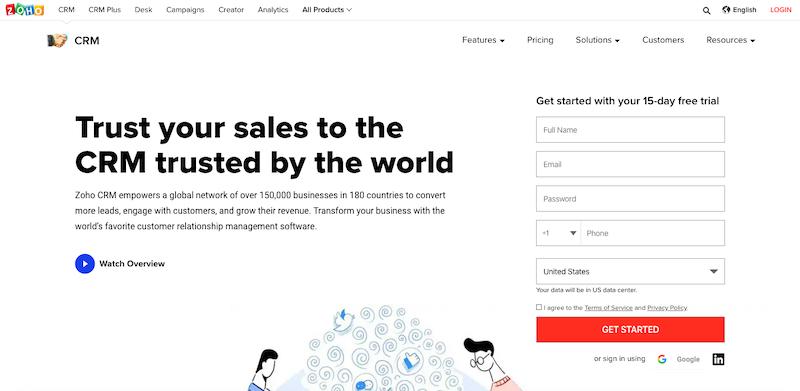 With Zoho CRM, you can get a 360-degree view of your business, track essential sales and marketing opportunities, and increase conversion rates. With more than 150,000 customers globally, Zoho CRM is one of the most popular tools on this list.
Key Features:
Advanced CRM Analytics – Integrates your data and derive actionable insights.
AI-Powered Sales Assistant – Zoho helps sales teams and representatives make decisions based on customer profile and detect anomalies.
Performance Management – With features like gamification, reporting, sales forecasting, and territory management, you can make the best out of your small business spendings.
Sales Enablement – Helps you generate price quotes and access sales scripts.
Process management – Enables the team to chart out every step of the sales process with sales builder and processing rules.
Pros:
Omnichannel customer support via phone, live chat, email, and social media.
Provides high-level automation.
Highly customizable.
More than 100 third party integrations, including LinkedIn, Zapier, email integrations like Google and Outlook, and more.
Highly scalable.
15-day free trial period.
Offers a mobile version (for paid plans).
Ensures data security, integrity, and regulatory compliance.
Multi-language offered.
Has a free plan for up to 3 users.
Provides holistic calendar management.
Offers data import/export.
Predictive sales feature to help with data enrichment, email sentiment analysis, and more.
Pricing Plans:
All three paid plans, the 'Standard,' 'Professional,' and 'Enterprise' cost $12, $20 and $35 per user per month (billed annually). Zoho CRM also offers a freemium plan for up to 3 users.
Get started with Zoho CRM.
Smartest Sales Features.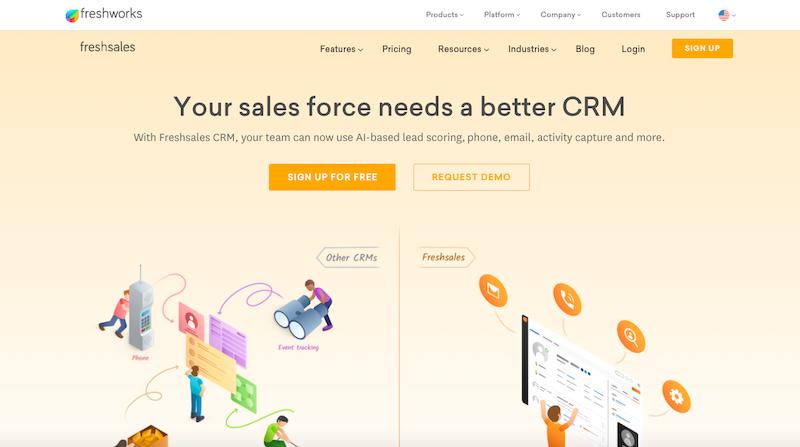 Freshsales is an AI-based CRM for lead scoring, email activity, email capture, and so forth. One of its most prominent features is that it provides a 360-degree view of your business.
Key Features:
Lead Management – Provides solutions to convert prospective leads into customers.
Deal Management – Gives you a thorough picture of where the deal is placed in the sales funnel. Also helps you manage and organize every step in the funnel and maximize your chances of conversion.
Tracking and Lead Scoring – With in-built AI-feature, you can rank and score leads, and identify the ones most likely to make a purchase.
Auto Lead Assignment – The CRM allows handpicked leads to select salespeople automatically.
Smartforms (web-to-lead) – When a person fills up the web-form on your website, they automatically become a lead and are added to your database.
Pros:
Provides high-level automation and intelligent workflows.
Extensive range of integrations, including MailChimp, Zapier, Calendar, Piesync, Segment, and more.
RESTful APIs to help you read, modify, add, and delete data from the help-desk.
Behavior-based lead segmentation.
Advanced lead scoring based on characteristics and behavior.
Sends out personalized welcome and voicemail messages.
GDPR-compliant.
21-day free trial period.
Excellent customer support via phone and email.
Known as one of the best mobile CRMs with a mobile app.
Event tracking (tracks previous communication to plan the future approach).
Highly flexible.
Pricing Plans:
Freshsales offers four plans, starting from $12 up to $79 per user per month (when billed annually).
Get started with Freshsales.
Best Enterprise CRM Software.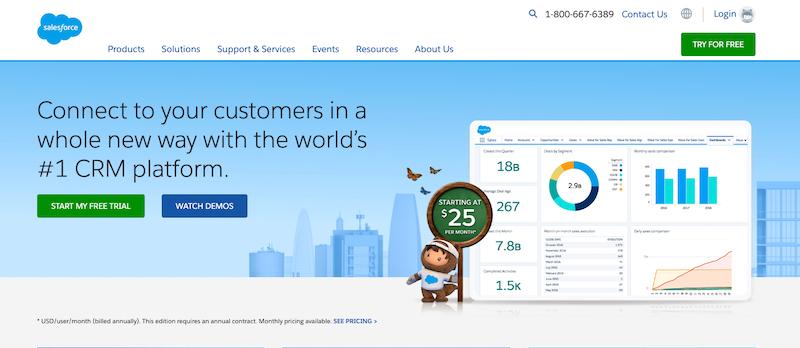 Salesforce is one of the most famous names on this list and has more than a million users worldwide. It's a cloud-based CRM software that caters to all the branches of a business, including sales, service, marketing, analytics, and more.
Key Features:
Opportunity Management – You can close more deals by identifying the perfect opportunities with the 'opportunity management' module.
Contact Management – With this module, you can track parameters like customer history, communications, and social media mentions.
Sales Performance Management – Set sales goals and update targets for the best sales performance.
Visual Workflow – Using this, you can drag, drop, share, and track files and updates.
First Feed Feature – Allows you to see what you want to see first (based on your settings).
Pros:
24/7 customer support available via phone, email, and tickets.
High-level automation and personalization (provide great social experience).
30-day free trial period.
Cloud-hosted (faster and inexpensive).
Compatible with Linux, Windows, Mac, Android.
Open API (therefore highly customizable).
Offer enterprise territory management, a sales CRM, and management of social networks.
Multi-language and multi-currency customer support.
Wide range of email templates to choose from.
In-built Einstein Lead Scoring.
Lead management with sales force automation and business intelligence.
Compatible with all devices, including mobile phones.
Provides partner communities.
In-built process builder and lead generation tools.
A large number of third-party integrations (LeadExec, Ambassador, Zuora, Zendesk, among others).
Mass emailing option to help you save time and effort.
Cons:
Can't be used by companies who want on-premise deployment.
Live chat support isn't available.
Pricing Plans: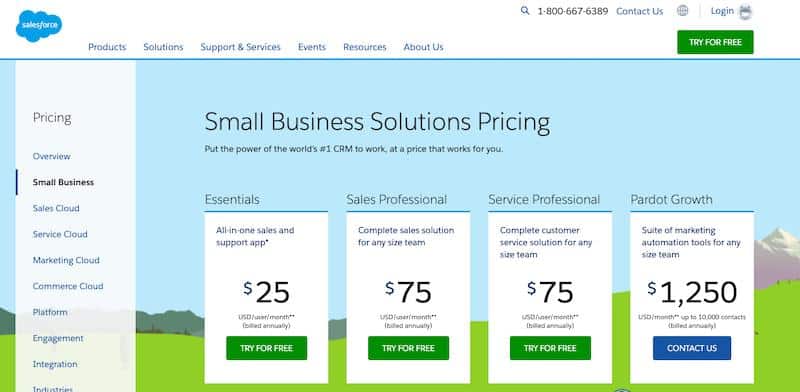 Salesforce offers a variety of products; therefore, the prices may vary. However, the subscription plans start at $25 per user per month, and the most expensive plan costs $1,250 per user per month (both billed annually). You can also get in touch with them for a customized plan.
Best Simple CRM.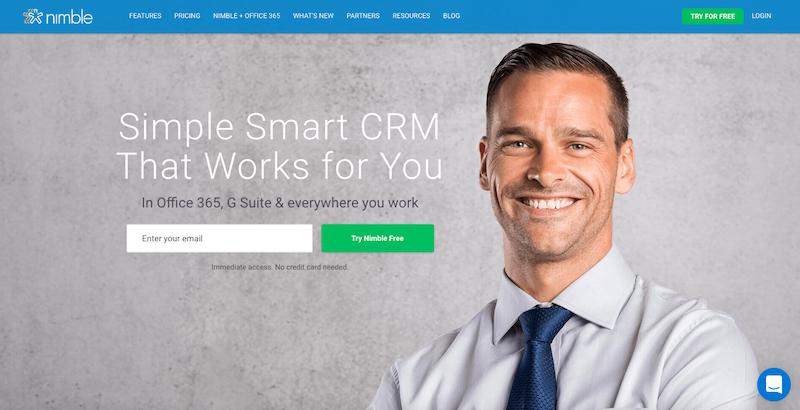 The Nimble is an excellent, albeit simple CRM software tool, that works within the G-Suite inbox or Office 365. It allows you to update contacts, access company & contact insights easily, and manage deals from within your workflow, among other impressive features.
Key Features:
Relationship Management – helps you automatically combine and collate social media connections, communications, inboxes, and calendar appointments.
Live Profiles – actionable, accessible contact records to quickly locate contact information and interaction history.
Segmentation – helps you stay organized by segmenting your contacts into lists to take various actions.
Reminder feature – never miss out on an opportunity with pre-scheduled reminder features.
Pipeline management – always stay on top of every stage of the sales funnel by the visual representation of pipelines.
Pros:
Sends out group emails to help you engage your audience at a large scale.
Email tracking to engage customers/leads more effectively.
Extensive range of third-party integrations, such as Gmail, Outlook, HubSpot, Mailchimp, and more.
Offers a redesigned smart contacts app (enhanced widget to support, calendars, tasks, deals, and more).
Highly scalable and customizable.
14-day free trial.
The prospector tool allows you to visit a website and get professional details about people who aren't listed on the website.
Has a 'group message' feature.
Extensive task management to create and assign tasks to different team members.
Compatible with mobile phones.
Ensures data security, integrity, and GDPR compliance.
Cons:
Only a single plan is available.
Doesn't one with the auto-responder feature.
Doesn't have a free plan.
Many integrations need a 'sync' tool to function properly.
Pricing Plans:
There is only one plan available. The price is $25 per month (billed monthly) and $19 per month (billed annually).

Pipedrive is a sales-focused CRM that uses AI to automated repetitive tasks and manage leads and sales. They currently support over 90,000 customers and over $24 billion in deals have passed through their platform.
Key Features:
Lead Management – Track leads and sales from forms, chatbots, and more on a 24/7 basis.
Visual Sales Pipelines – You can organize your pipeline and create custom stages (hot, warm, cold) by rep or team member.
Communication Tracking – A full contact history tracks calls, emails, chats, and more and allows you to set your schedule in real-time.
Mobile Apps – You can use Pipedrive from your mobile device and integrate your smartphone with other sales apps to increase sales.
Pros:
Can easily add deals, values, win probabilities, and close dates.
Unlimited custom fields collect any piece of customer information.
Custom reports can track revenue estimates and recurring revenue.
Activity reports can track individual sales calls, emails, demos, and events.
Lead source data reports tell you where your leads came from (organic, direct, SEM, social, outbound sales, etc.)
"Sales Assistant" creates performance tips and automation recommendations to save you time.
Pricing:

Pipedrive offers four paid plans: Essential, Advanced, Professional, and Enterprise. These plans range from $12.50 per user per month to $99 per user per month.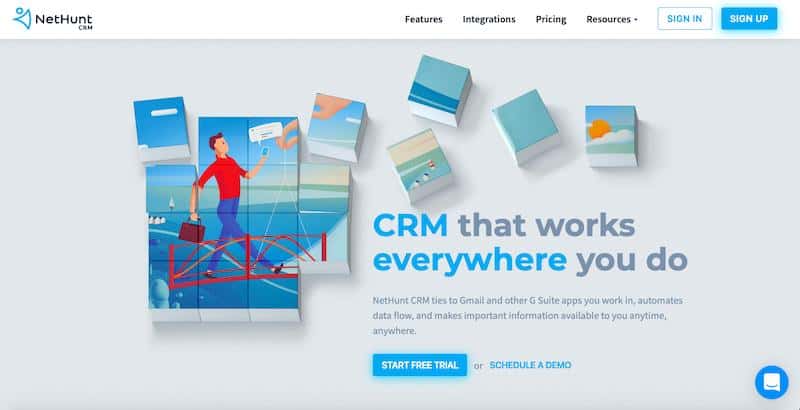 NetHunt CRM works collaboratively with your Google account and all other applications. It brings to you all the familiarity of the G-suite, along with all the CRM functionalities.
Key Features:
Customer Relationship Management – Takes care of managing and following up on leads, taking care of existing customers, create records, and answers questions.
Pipeline Management – Picks the right deals and activities to select and follow-up on a daily or weekly basis and see how close you are to closing a deal.
Sales Cycle Management – Go after leads more effectively, find out the status of the sales cycle, and optimize efforts.
Leads Tracking – Ensure timely follow-up and status of leads so that you can track and address them effectively.
Sales Tracking – Helps you track sales across multiple channels, monitor the KPIs of the sales team, and capture information about leads and customers.
Pros:
Fully integrated with Gmail.
14-day free trial period.
Filter, sort, and save data the way you need.
Highly customizable and scalable.
Sends out personalized, bulk emails.
Capture prospective leads in one click.
User-friendly, intuitive interface.
Extensively integrated with third-party applications (LinkedIn, Mailchimp, Twitter, Facebook, and more).
Cloud-hosted (inexpensive and easy setup).
Multi-language platform.
Email, phone, and live chat customer support available.
Compatible with mobile devices.
Data import and export is effortless.
Cons:
Isn't compatible with Linux.
Ticket customer support not available.
On-premise deployment isn't available.
No free plan available.
Pricing Plans: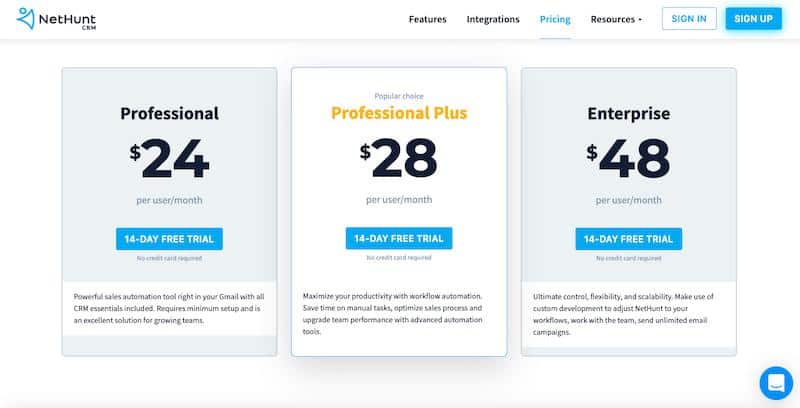 NetHunt CRM offers three plans, called the 'Professional,' 'Professional Plus,' and 'Enterprise.' The prices start from $24 per month and go up to $48 per month.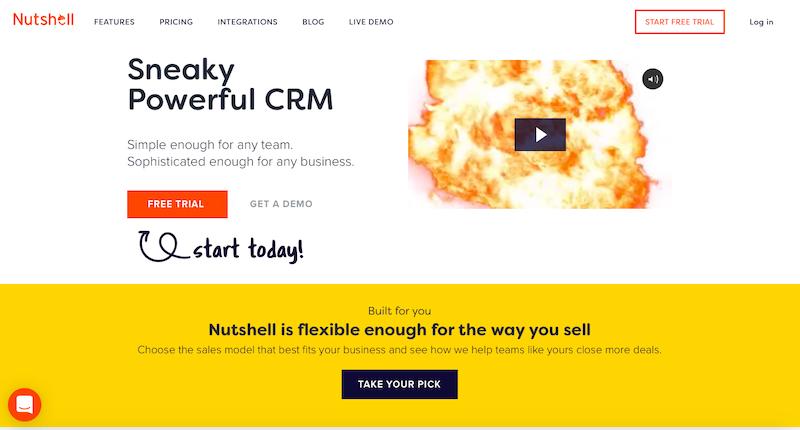 Nutshell CRM is a comprehensive, cloud-based software aimed at solving a multitude of business process problems. It's a holistic tool capable of handling all facets of a business CRM and perfect for keeping detailed records. It uses an Amazon Web Services (AWS) platform.
Key Features:
Contact Management – Manage, import, and export all your contacts to get started immediately (automatic contact sync, centralized database, business card scanner, intelligent search function).
Reporting & Performance Tracking – Instantly view your sales performance by drilling down by product, representative, lead source, and more (sales report, forecast report, loss report, activity report, funnel report, dashboards).
Sales Automation – Automate most processes with powerful tools for maximum efficiency.
Extensive Integrations – Nullifies the need for an IT department by offering various third-party integrations like Mailchimp, Constant Contact, Intercom, Outlook, Slack, and more.
Pros:
Send bulk emails.
Compatible with mobile devices.
Easy data import & export.
Provides a highly collaborative environment.
Highly scalable and customizable.
Cloud-hosted (inexpensive and easy to deploy).
Extensive customer support via phone, email, live support, and tickets
14-day free trial.
Comprehensive pipeline management (drag-and-drop board view, list view, chart view).
Ensures data security, data integrity, and regulatory compliance (GDPR compliant).
Provides continuous backups by taking snapshots twice-daily, weekly, and monthly.
Payment card industry (PCI) compliant to protect billing information.
Cons:
Doesn't support multiple languages (only English).
Doesn't offer on-premise deployment.
Pricing plans do not include any freemium plan.
Pricing Plans:
Nutshell CRM provides two plans.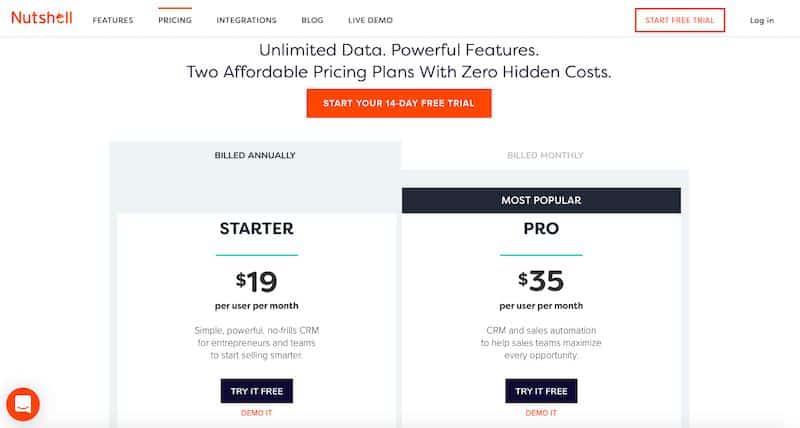 The first one is the 'Starter' plan $19 per user per month, and then you have the 'Pro' plan for $19 per user per month (billed annually).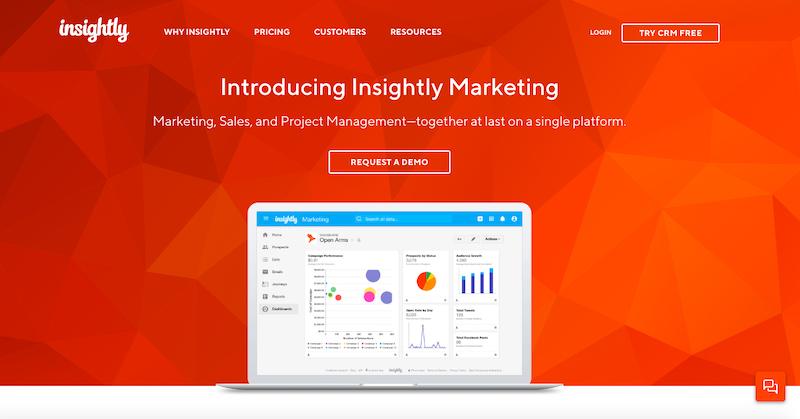 Insightly is a modern CRM platform that can help you grow your business faster by building lasting relationships with customers.
Key Features:
Lead Routing – Tracks the most relevant lead information including a rich activity timeline of marketing campaign source, email, phone calls, meetings.
Relationship Management – Enables you to build strong relationships with existing customers and get new customers on board.
Extensive Third-Party Integrations – Integrated with a wide range of applications like Gmail, Mailchimp, Dropbox, Outlook, and more.
Pipeline Management – Allows you to monitor the performance of the sales team, track sales pitch, and identify where it is precisely in the sales funnel.
Pros:
Compatible with mobile devices, both Android and iOS.
Provides visual dashboards for display and tracking important metrics.
Ensures data integrity (military-grade AES-256 encryption) and regulatory compliance (GDPR-compliant).
Highly flexible calendaring and events.
Highly scalable and customizable.
Offers features to ensure efficient filtering and tagging possible.
In-built automated email reminders and tracking.
14-day free trial.
One of the most affordable software solutions.
Customer support available via phone, tickets, and email.
In-built tutorials for hands-on experience working with the software.
Get a real-time macro/micro view of your business.
User-friendly and intuitive.
Cons:
Doesn't have live chat support and on-premise deployment.
Supports only one language (English).
Pricing Plans: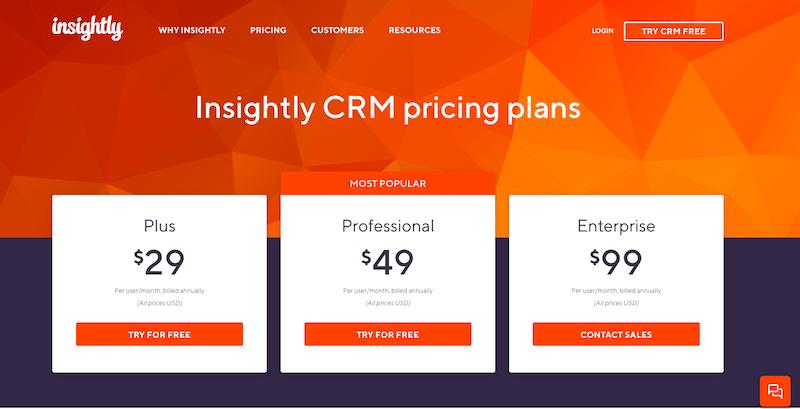 The prices start from $29 and go up to $99 per user per month (billed annually). Insightly also offers a free plan for up to 2 users.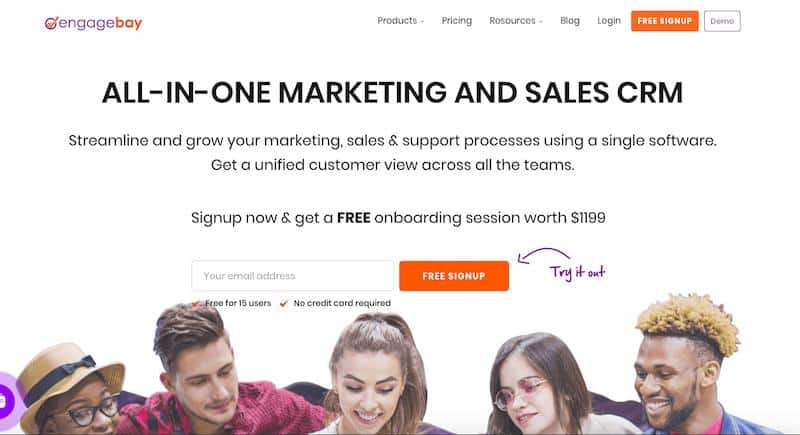 Engagebay is a cloud-hosted CRM that integrates all business processes and functions like sales, marketing, and finances on to a single platform. On top of that, the software primarily focuses on automation for maximum efficiency.
Key Features:
Email Marketing – Offers a great module, laced with features like A/B testing, auto-responders, CAN-SPAM compliance, dynamic content, event-triggered emails, and more.
Lead Generation – Efficient lead generation with features like contact import and export, lead capture, database integration, nurturing, scoring, segmentation, and more.
Marketing Automation – Offers customizable CTAs, drip campaigns, sales intelligence, website visitor tracking, and so forth.
Social Media Marketing – You can perform analytics, contact management, automated publishing, content management, and multi-account management.
Pros:
Offers a great free plan.
Extensive third-party app integrations, such as Zapier, Xero, and more.
Highly customizable and scalable.
User-friendly and intuitive interface.
Comprehensive customer support via phone, live chats, email, tickets.
Offers free trial period for paid plans.
One of the most affordable plans in the market (entirely cloud-based).
Ensures data security, integrity, and regulatory compliance (GDPR-compliant).
Real-time, consolidated customer information for all (including previous interactions and purchases).
Variety of forms and pop-ups for visitor engagement and lead generation.
Cons:
Doesn't offer on-premise deployment.
Supports only English software.
Pricing Plans:
It has four broad segments:
All-in-one
Marketing
CRM & sales bay
Service Bay
The CRM & sales bay segment has four plans (one free and three paid).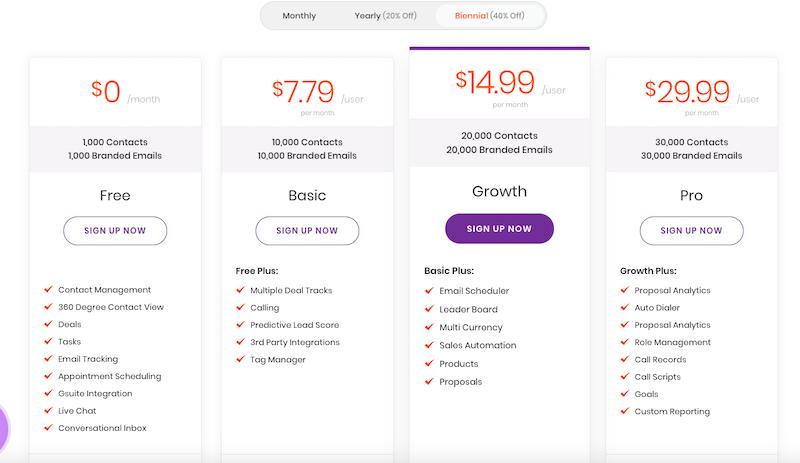 The paid plans start from $7.79 and range up to $29.99 per user per month, based on features (when paid bi-annually). You can also pay annually or monthly.
What is CRM Software?
Customer relationship management (CRM) software is a type of online tool that helps organizations manage a sales pipeline all the way from lead generation to closing sales.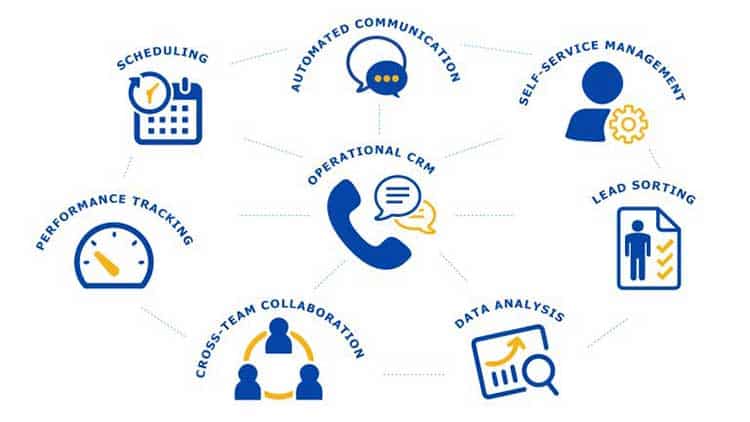 CRMs help companies access, organize, and make sense of customer data to generate more sales.
CRM collects information from various channels like social media, email campaigns, live chat, phone calls, personal interaction, feedback forms, and more. It further leverages data analytics to analyze the customer's buying history, patterns, and needs.
The aim is to enhance the customer experience and customer satisfaction, turning leads into customers, then nurturing and upselling that relationship.
CRM has been around for a long time (earlier in paper form), but the benefits of CRM systems became apparent after widespread digitalization.
CRM systems link various departments, including sales, marketing, HR, customer service, IT, business intelligence (BI), and finance. Furthermore, data is readily accessible by any employee in real-time, which empowers teams to quick, data-driven decisions.
Overall, CRM solutions have managed to connect interdepartmental teams and increase sales while removing business silos.
What Should You Look For in CRM Software?
1. Sales and Lead Management.
Your CRM should generate leads from inbound marketing, sales calls, email sign-ups, and more. Look for preset tasks to follow up with leads in less time. Your CRM should nurture your leads through the entire sales pipeline, from lead to close.
2. Marketing.
Built-in marketing tools like email pipelines, databases, and social media integrations can help with marketing and sales alignment.
3. Integrations.
CRM systems integrate with other important business software like email marketing tools, advertising platforms, data visualization tools, and more.
4. Analytics and Reporting.
Most CRM platforms have built-in reporting capabilities and pre-designed reports. Check for live and dynamic reporting features.
5. Product Mobility.
Since sales teams are on the move, does the CRM offer usage across different devices? Check to see if your CRM can be used on not just computers, but also mobile devices and tablets.
6. Implementation.
The product implementation period should be relatively quick, low cost, and error-free. Ask your support engineer how long the timeline is and what resources are required from your team.
7. Project Management Workflows.
Task management boards and approval checklists should help your sales teams manage their tasks efficiently.
8. Security.
File storage and platform security are paramount when selecting your CRM. Since your CRM is integrated with so much important data, make sure your platform's security is top notch.
9. User Experience is Key.
How easy-to-use is your CRM? Don't forget UX and make sure that your team is comfortable working with this tool for the long haul and there is a short learning curve.
10. API Calls.
Your CRM should have a robust, extensible, and open architecture for custom data integrations.
Questions to Ask When Choosing CRM Software.
Is this built for small business or enterprise?
Does this software integrate with the tools I'm already using?
How many user seats are provided and are there user minimums?
Would it be easy to train employees?
Are there set up fees and what is the total cost?
What type of security features are standard in the software?
Is the API accessible?
What Are the Benefits of CRM Software?
Here are some of the demonstrated benefits of using a good CRM for businesses of all sizes:
1. Improved Client Relationships and Customer Interactions.
CRM software allows you to streamline customer information and can help you generate insights, allowing you to serve your clients better.
2. You Can Cross-Sell And Up-Sell.
Armed with knowledge about customer choice and preferences, you can easily suggest the purchase of complementary products. On top of that, you can recommend other value-added versions of the product(s) that are pricier than the one your customer has bought.
3. Improves Collaboration.
Breaking away from silos, every member of the organization can access the same data in real-time, which can lead to enhanced collaboration between team members, as well as between the different sales and marketing teams involved.
4. Enhanced Efficiency.
Since you are privy to information like customer preference, choice, and purchase history, the client doesn't need to spend time explaining their requirements. You can capitalize on your knowledge, satisfy the customer, and enhance work efficiency.
5. Save Costs In The Long Run.
Setting up a CRM software can be costly, but it is a one-time cost. On the other hand, enhanced operational efficiency and collaboration leads to increased productivity, which lowers in the long run.
6. Increases Employee Involvement.
Employees feel empowered when they can access data, and it results in employees taking more ownership in the day to day work. Thus, CRM solutions naturally increase employee involvement.
How Do You Use CRM Software?
It is easy to start using CRM software, especially when you think about the benefits associated with it. For best results, you need to use it across all levels of your organization.
Here are some steps on how to use a CRM:
1. Add Sales Representatives.
Before you add anyone else, make sure you get your salespeople on board since they're most vital for your CRM tool.
Your sales team will ultimately rake in the revenue, and CRM is crucial for them to get more sales for the business. That's why you also need to ensure that they find it easy to use.
2. Segment Your Audience.
Every business is different, and there are different ways a company can segment their sales funnel. The most commonly used method is by dividing your potential customers into various stages like 'lead,' 'opportunity,' and 'customer,' which represents them from a company standpoint.
3. Import Your Contact List.
While many small businesses use different CRM systems for various uses, it's a good practice to use a single one. However, whether or not you're using a single CRM, you've got to import your data like the contact list, past deals, and other customer information. Almost all of the CRM systems tools allow CSV file uploads.
4. Third-Party Integrations.
The whole point of a CRM is to focus on the customer details and data through as many channels as possible. Therefore, you need a CRM software that provides abundant third-party integrations. Some of the essential integrations that you should be looking at are Amazon, Alibaba, Facebook, Twitter, Instagram, among others.
5. Create a Dashboard.
CRM systems have the power to simplify things for you by creating a dashboard. A dashboard lets you take control of everything you need to do by displaying it on the screen.
It's basically a visual, central control panel where you have access to all the functions of your business, and control anything you want at any time.
Here's an infographic that depicts what a typical CRM systems dashboard looks like: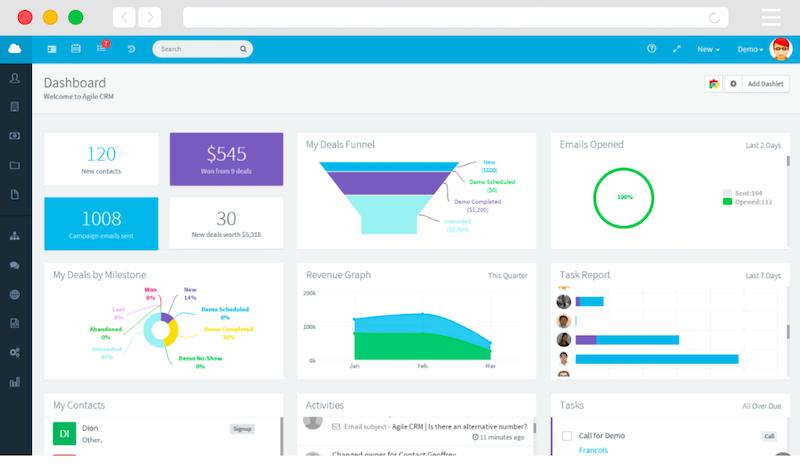 You can see and monitor project updates, task completions, statistics, visualizations, charts, and much more.
6. Create Reports.
The sales team makes money for the company. That's why you should provide them with as much information as possible, which will ease their job of selling the right value to the right customers.
Hence, it's a good practice to create reports at regular intervals, like weekly, quarterly, or monthly, and send them to the sales reps.
These reports help the sales reps to:
Evaluate their performance
Evaluate the performance of the team
Keep track of the targets they have achieved and the goals they're yet to achieve
Keep track of the comparative performance between colleagues (for bonus and incentive considerations)
The sales reps can then modify their performance accordingly.
Executive Summary.
There are a lot of CRM tools in the market, and all of them have their own strengths and benefits.
For instance, Zoho makes customer relationship management software easy and fun, while Insightly helps you focus on the project management side of things. On the other hand, Freshsales is renowned for its user-friendliness, and Nutshell is – in a nutshell, great for your sales team.
However, you know your business better than anyone, and it's for you to decide what it needs. Look at the value you're getting at a definite price point, and the outcome you're looking at.
Look at things like cloud vs. on-premise deployment, features and functionality, third-party integrations, ease-of-use, pricing plans, and more. Study all the facets before choosing the perfect CRM software for your business.
Which CRM software are you planning to use for your business? Let me know in the comments below.