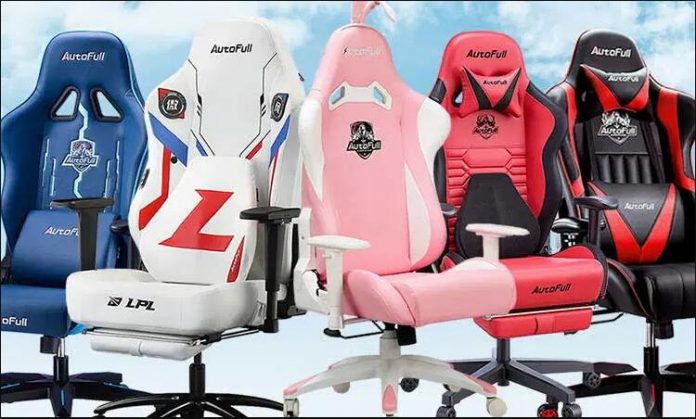 You may be wondering if an AutoFull chair is right for you. If so, read on!
If you are a gaming chairs hunter on a mission to find the chairs best suited for your needs, our review can help you determine if your next (or first) gaming chair should be an AutoFull. We review chairs to find all of the details that are important to you as a gamer and verify that each of the chairs measures up.
There is more than one AutoFull chair – including a pink gaming chair with bunny ears – so it's important to review several of their offerings to determine if the company delivers the kind of quality, comfort, and performance that you are looking for.
Whether you are playing PC games, games on Xbox One, or on some other platform, we encourage you to read at least one gaming chair review from us to find the best gaming chair for you. Let's see what AutoFull has for us!
About AutoFull
If you follow professional gaming, you have probably heard of AutoFull chairs. They are considered by many to be some of the best gaming chairs.
The company's Master Gaming Chair is used by many entry-level professionals, which is not surprising considering the fact that AutoFull is the sponsor of several probe leagues, including LDL, MDI, and WCA.
Fortunately, AutoFull makes a range of gaming chairs, including some that are more affordable than it's pro models (although the company's chairs are still pretty top-end compared to the cheaper options out there.)
If you need a specific seat size, a certain seat height, a lumbar pillow, a high back, or even a pink gaming chair, chances are one of these AutoFull gaming chairs has what you need.
So, if you are researching chairs for gaming, you will find the info you need about some of the best gaming chairs from AutoFull in our review.
#1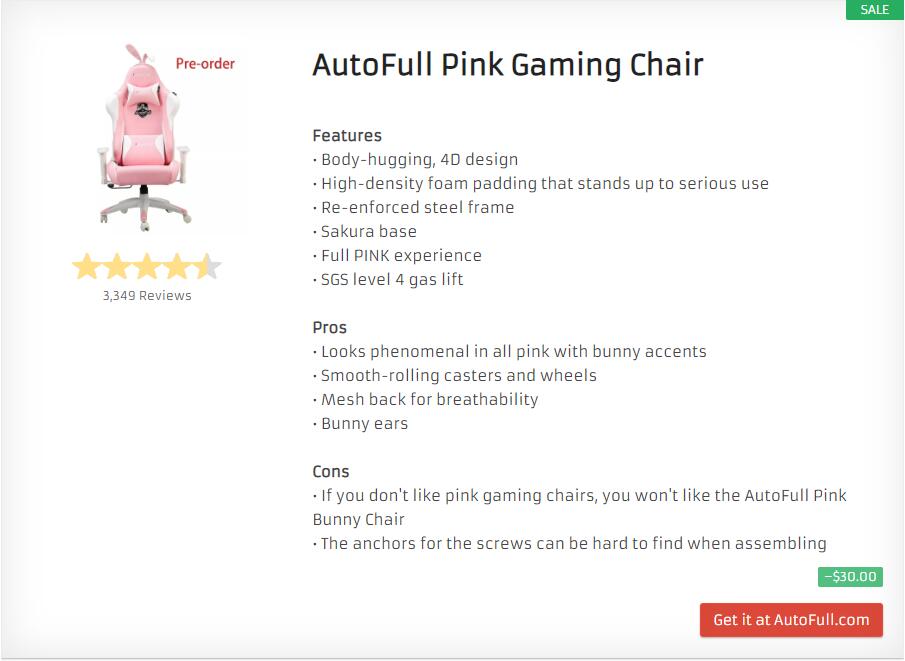 No review for AutoFull gaming chairs would be complete without a review of the AutoFull Pink Bunny Chair.
There are plenty of gaming chairs out there, but not many as cute as this one. It goes all out with the cuteness, including bunny ears on top, a bunny tail, and furry armrests. If you like pink, you will probably love this chair.
Cuteness isn't everything, though. You still want a comfortable gaming chair that you can use for hours on end – one that is just as good for Call of Duty as it is for MapleStory 2.
The AutoFull Pink Bunny Chair is made for serious gamers – from the smallest to those that fall into the big and tall category. It has the weight capacity to handle any gamer and high-density foam padding to keep them comfortable.
Get This Autofull Gaming Chair
#2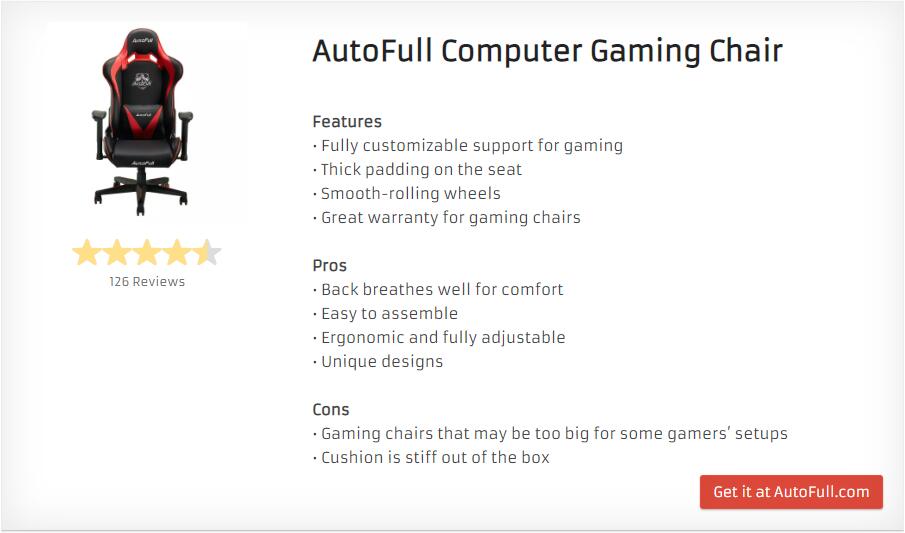 The AutoFull Computer Gaming Chair really sets the standard for a video game chair. After our chair review for this AutoFull chair, we can see that AutoFull knows what it's doing when it comes to chairs for gaming.
The company is known for its high-quality gaming chairs, which comes across in this relatively affordable pro chair. This AutoFull chair is both ergonomic and stylish, so you get lumbar support without looking like you are sitting in an office chair.
The best gaming chairs – at least the good ones – improve your gaming experience by supporting you in all the right places, and these pro chairs AutoFull makes are no exception.
The gaming chair comes with 4D adjustable back support and 3D adjustable armrests as well as a seat height adjustment mechanism that allows you to fit it to your body – whether you are big and tall, average, or on the smaller side.
Get This Autofull Gaming Chair
#3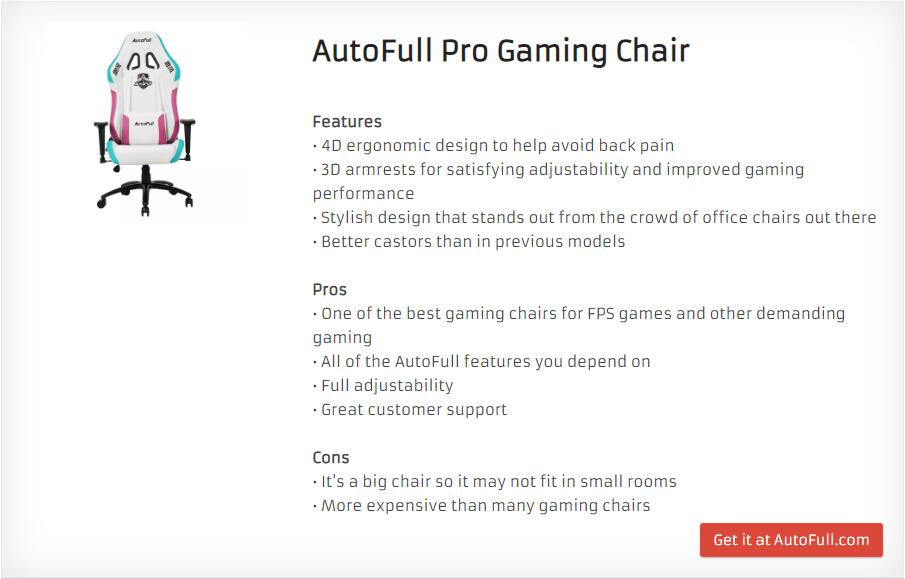 The AutoFull Pro Gaming Chair is one of those gaming chairs that is likely to please most gamers. The chair ticks off all of the boxes that the best gaming chairs do, including high-quality PU leather, lumbar support, fully adjustable features, and more.
Pro gaming chairs are supposed to improve gaming response, and this professional gaming chair is likely to meet that requirement due to its superior design and customization options.
Not only does the AutoFull Pro Gaming chair perform well, but it also comes with a lifetime warranty and a 24-month warranty on parts. That means you can use the AutoFull gaming chair as hard as you need to without worrying about what happens if it breaks.
It is one of those PU leather chairs like the pros use – in fact, some pros really do use it!
Get This Autofull Gaming Chair
#4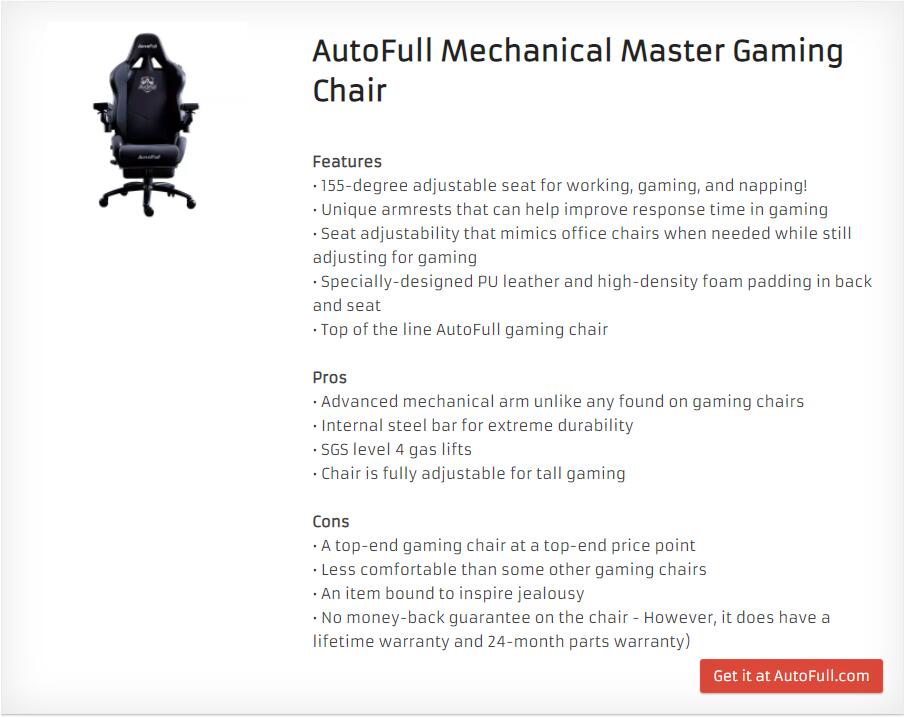 The AutoFull Mechanical Master gaming chair sits at the top end of the company's lineup – it's the AutoFull chair that not all people would appreciate but that serious gamers can't help but want.
Instead of trying to create the most comfortable gaming chair, AutoFull went full out to achieve optimal performance. The chair's best features are not related to comfort – instead, they are designed to shave milliseconds off of your gaming performance to help you win.
Probably the most interesting thing about the AutoFull Mechanical Master chair is the newly-designed armrests for gaming. The advanced mechanical arm provides superior support as you move, sliding forward and backward and rotating 360 degrees.
This gaming chair comes with specially-designed upholstery as well. It's a PU+C-fiber leather chair which resists moisture damage.
Get This Autofull Gaming Chair
In Closing
Trying to determine the best chair for gaming is no easy task because the answer can vary from person to person and therefore from review to review.
If you are a gaming chair review hunter, you may find one AutoFull gaming chair review differs drastically from another AutoFull gaming chair review – all for the same gaming chair.
With that being said, we believe our chair reviews reflect the opinions of true gamers and we have to say that an AutoFull gaming chair, whichever chair you choose, is likely to be one you enjoy.
Whether you are looking for a pink gaming chair, a relatively affordable entry-level gaming chair, or a chair that pro gamers would be happy with, the chairs from AutoFull are likely to suit you.
Just remember, if you have to have one gaming chair, we encourage you to choose the one that will fit your preferences. You don't have to have the most high-end chair just to play Xbox One.
Trust your instincts – and our gaming chair review!