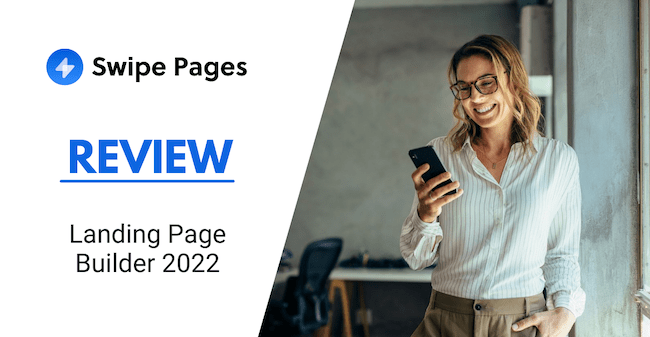 Swipe Pages is a fairly new, yet powerful and promising addition to the landing page builder market. It was founded in 2020 as a software solution focused on "ROI driven marketers".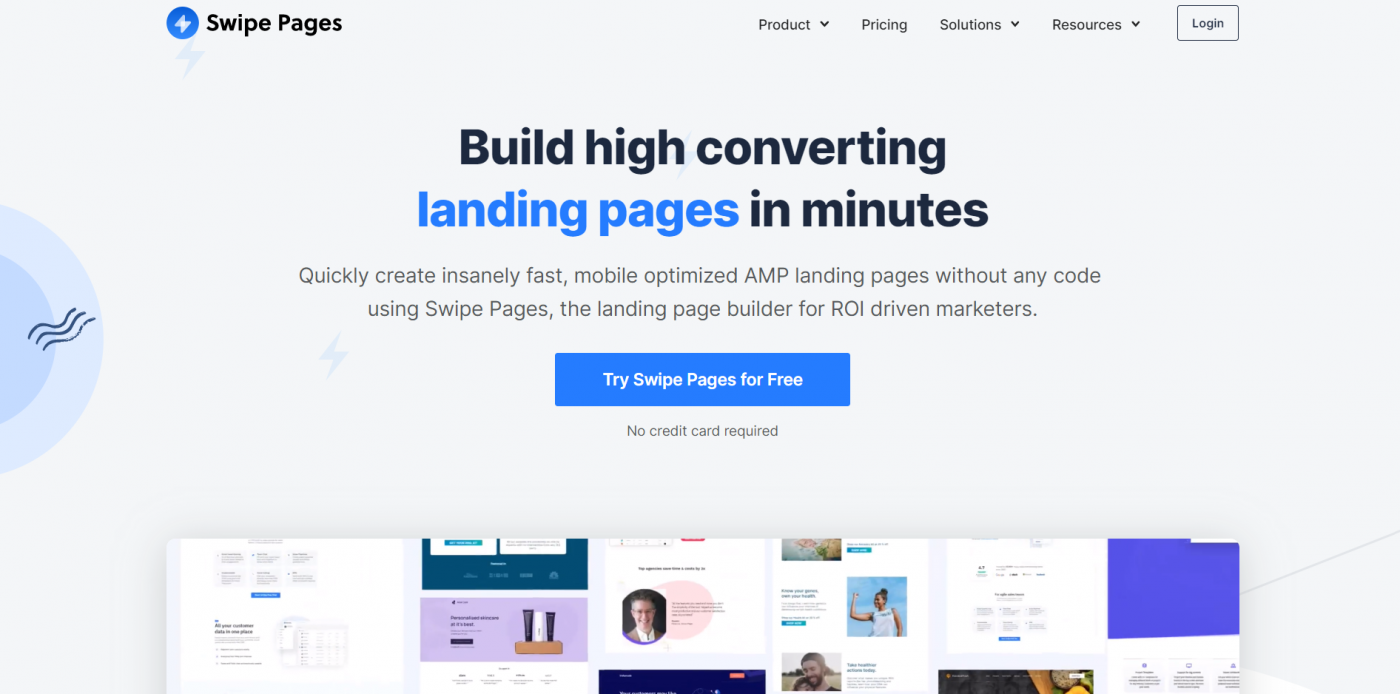 What does this mean?
If you've been looking for a good landing page builder and asking yourself if Swipe Pages fits this description and whether it would be a good choice for your particular business, this Swipe Pages review may be of help to you.
In this article, we'll try to answer the question posed above and, along the way, we'll explore some of the most important facets of Swipe Pages. So, let's get to it.
First Things First
Before we dive into the specifics of Swipe Pages, we'll clarify some of the concepts mentioned in the introduction in case their meaning is unclear.
ROI is short for return on investment. Basically, it's a measure that gives us insight into the efficiency of our investment endeavors by comparing how much we invest to how much we get back in return.
ROI-driven marketers are focused on gaining new leads and customers at an optimal cost. Their marketing strategies are data-driven. They aim to invest time, energy, and money only into the most promising aspects that lead to profit. Thanks to data insights on different users and audiences—for instance, their preferences, their interactions with the landing page, their demographic characteristics, their age group, and more—ROI marketers can create a more personalized and efficient marketing approach that leads to higher conversion rates and, eventually, to more profit.
This implies that ROI-driven marketing is based on data science and software implementations of data science, as well as the application of artificial intelligence.
Swipe Pages Pricing
Pricing is always one of the aspects that's of greatest interest to users, and rightfully so. Investing in a landing page builder can be a serious financial and time investment. Hence, it's only natural to want to find out as much as possible about a company's pricing system before making a decision.
Swipe Pages offers three pricing plans: Startup, Marketer, and Agency. There's also a fully-featured 14-day free trial, and the beauty of it is that it doesn't require a credit card.
The Startup Plan
Startup: $29/month (billed monthly) or $19/month (billed annually).
Some of the perks of this plan are:
Unlimited conversions and landing pages
The fact that there are no limitations on the number of landing pages you can create and conversions you can have gives you a lot of freedom.
Ability to connect a custom domain
With the Startup plan, you can have only 1 custom domain (with the other two plans Swipe Pages offers either 5 or an unlimited number of domains). However, Swipe Pages allows you to "add unlimited subdomains to a single root domain".
AMP stands for Accelerated Mobile Pages. A lightning-fast load time is one of their key features. They're the result of joint work between Google and Twitter. The sole focus of this project is on creating an impeccable user experience. AMPs are especially important in light of the fact that, nowadays, the majority of people use their mobile phones to surf the internet.
For starters, Swipe Pages takes care of everything related to hosting, which is not a minor thing. On top of this, your landing page will have an added layer of security—an SSL (Secure Sockets Layer) certificate or, technically more precisely, a TLS (Transport Layer Security) certificate—that enables encrypted communication between different systems.
CDN is short for Content Delivery Network. The purpose of a CDN is to speed up the delivery of web content through geographically distributed servers, so a visitor sees the content served by the server that's geographically closest to them.
Analytics and conversion tracking
Thanks to this feature, you'll always have insight into important stats like page traffic and lead conversion.
This feature allows you to receive an email notification each time there's a new sign-up on your site.
Opening a Stripe account is a prerequisite for creating checkouts. You just need to connect your Swipe Pages and Stripe accounts, and you'll be able to sell products and receive payments from your landing pages.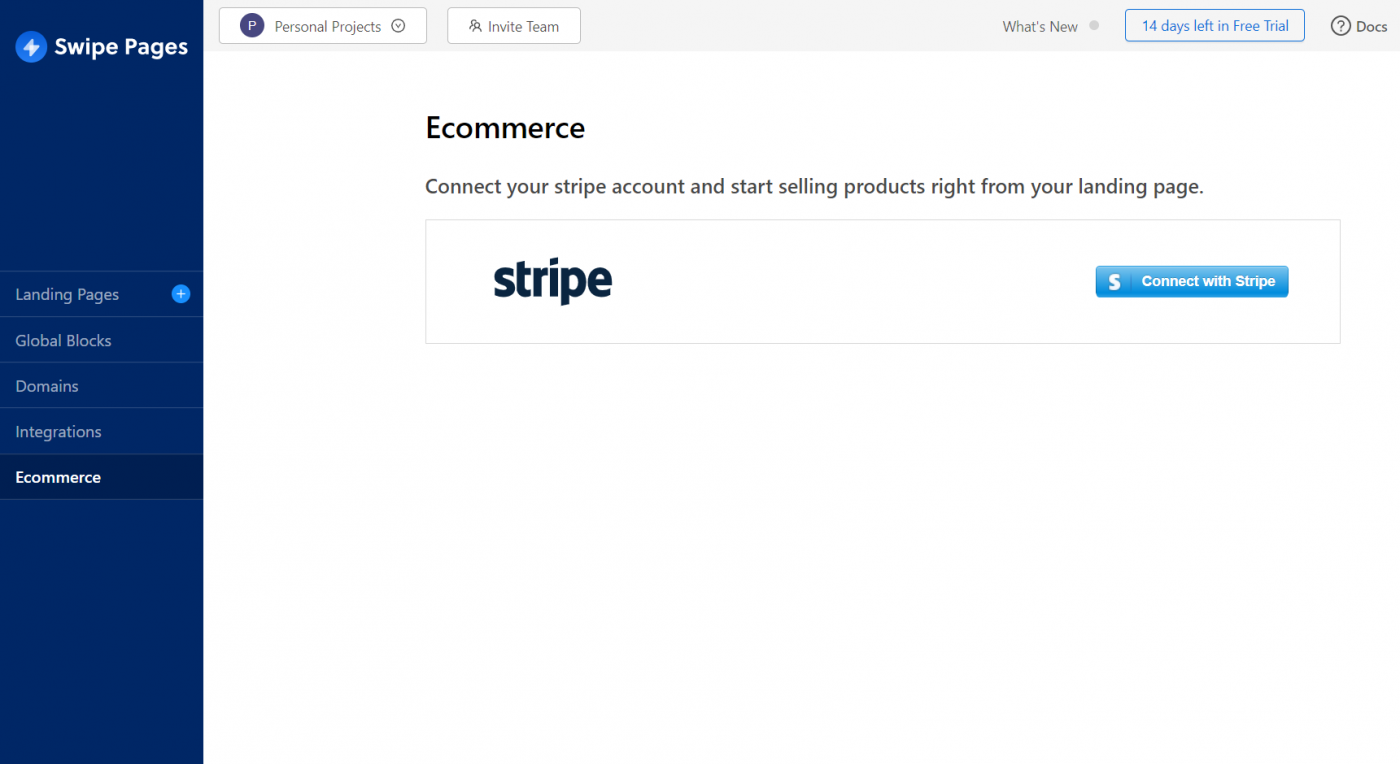 Multi-step forms are forms that are split into multiple small parts. Long and cumbersome forms can easily drive visitors away from your page/site. The goal of a multi-step form is to avoid this by displaying the form in a more user-friendly format.
Zapier allows users to automate their marketing and makes available a ton of third-party integrations.
Even with the most basic Swipe Pages pricing plan, you get access to direct customer support, which makes everything easier.
The Marketer Plan
Marketer: $79/month (billed monthly) or $49/month (billed annually).
According to Swipe Pages, the Marketer plan is the most popular. It includes everything from the Startup plan, plus the following perks:
5 client sub-accounts and 5 team members
You can work separately with different customers and collaborate with a team, whose members will get different permissions and access to the workspaces.
This is a great and very useful feature. It allows you to build two or more versions of a landing page, test them out, and see which one performs better in terms of lead conversion.
Instead of the 20K unique visitors you get with the Startup plan, with the Marketer plan you can have up to 50K to your site. It's not quite as many as the Agency plan offers, 500K unique visitors, but it's a pretty good number, nonetheless.
The Agency Plan
Agency: $149/month (billed monthly) or $99/month (billed annually).
Clearly, the Agency plan may be over budget for many users, but it's geared toward agency owners, so it's kind of expected to be in a higher price range.
The greatest features of this pricing plan are:
Unlimited client sub-accounts and team members
Considering who the target audience of this plan is, it's only natural to see something like this as part of it.
Special 30 minute consultation and one-on-one onboarding
This means that you'll get special help from Swipe Pages experts, who'll guide you through the onboarding process, help you optimize your pages, and build your initial marketing campaign.
Creating a Landing Page
Creating your first landing page in Swipe Pages is a straightforward and uncomplicated process.
First, you need to give your page a name and choose whether it will be a standard responsive landing page or an AMP page. An AMP page is primarily mobile-oriented, although it can load normally on a desktop device as well. Yet, for certain technical reasons with practical consequences, they're not recommended if you expect mostly traffic coming from desktop devices.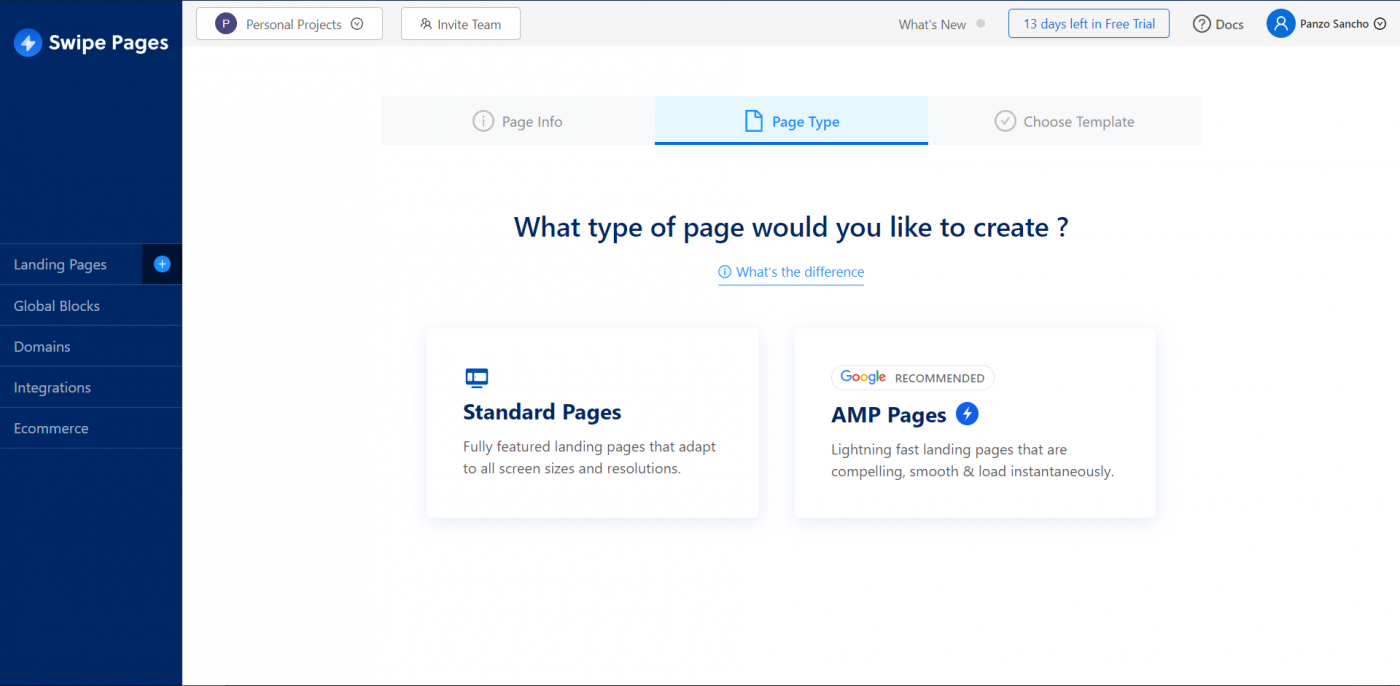 The next step is selecting a template. There are over 40 great designs to choose from. You can search the templates based on industry or other parameters and preview each before picking the one that meets your requirements. In addition to this, you can start from scratch and build a landing page from a completely blank page.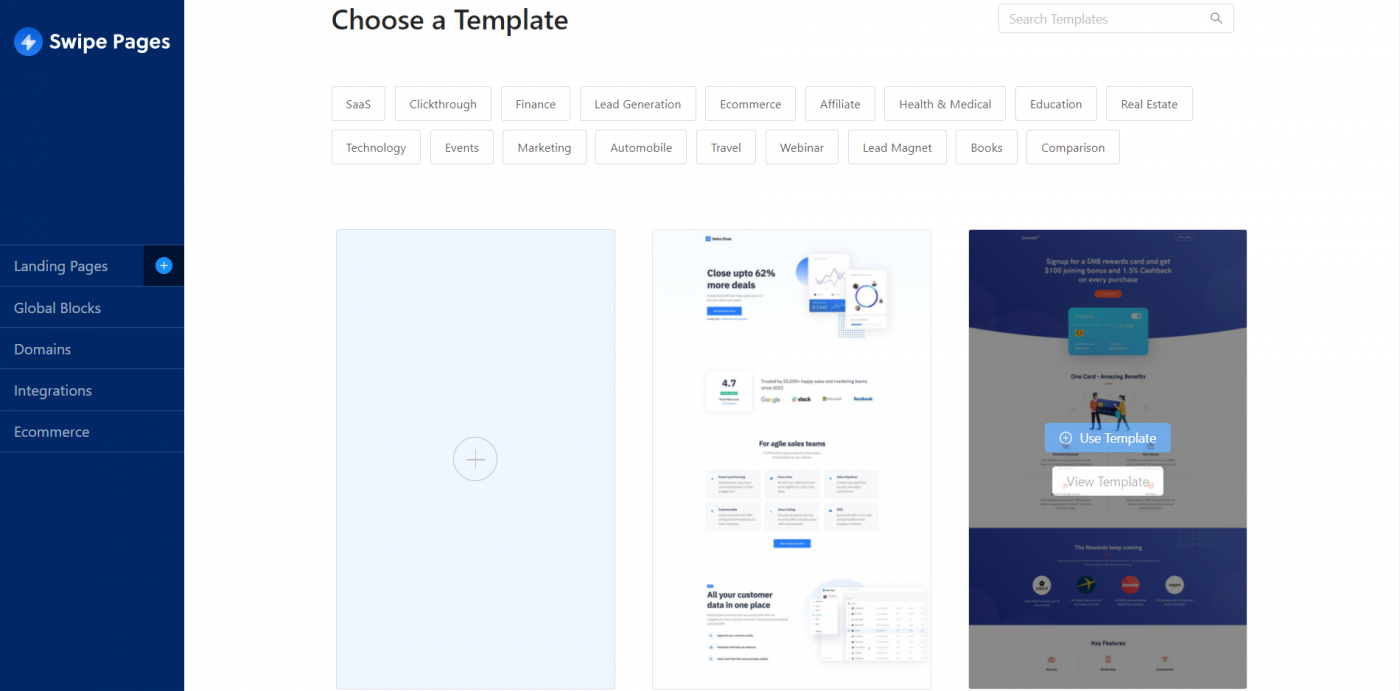 This is roughly what you'll see after choosing a template: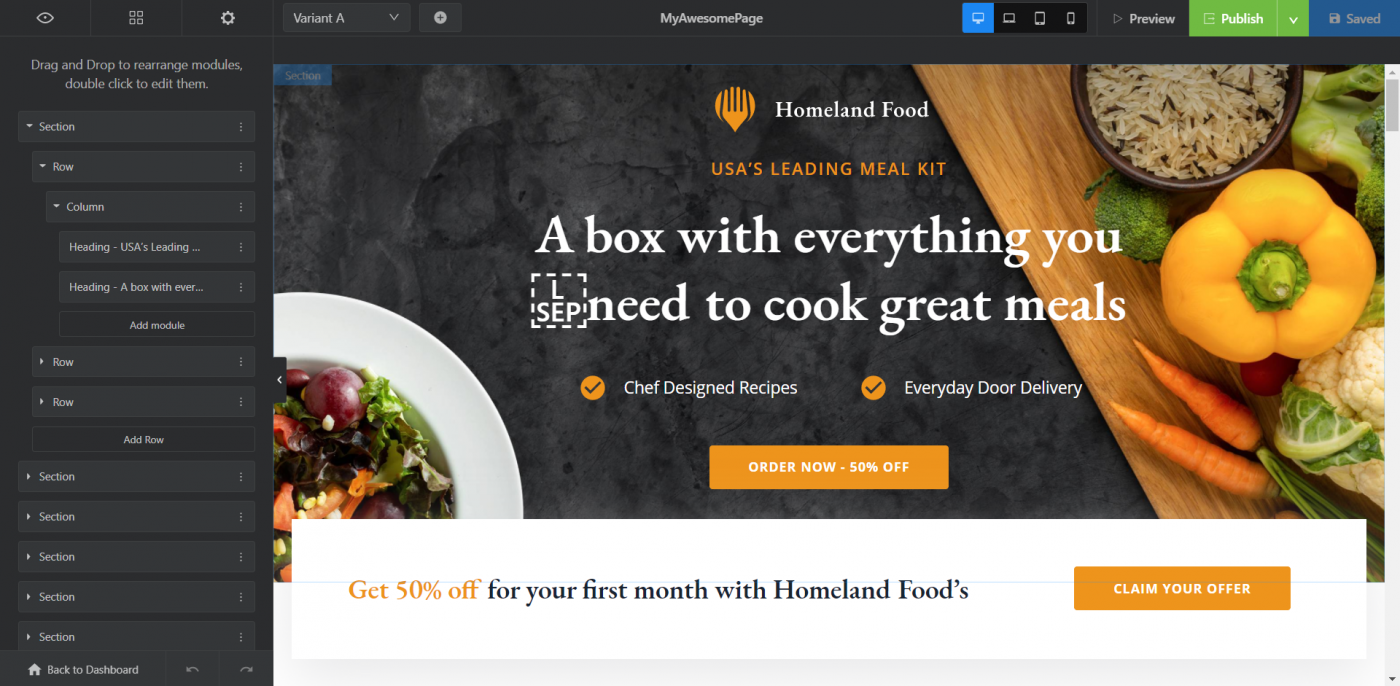 From here, you can add sections, rows, and columns, and edit the existing modules by double-clicking them. You can also adjust the buttons, text, headings, etc. Additionally, Swipe Pages lets you rearrange modules, using the drag-and-drop method, so you can place a section lower on the page or, say, move a row higher than where it was originally located.
As you're making changes, you can check how your page will look on four different types of devices: desktop, laptop, tablet, and mobile phone. On top of this, Swipe Pages allows you to see what you're building in the browser.
One great option that Swipe Pages offers is to add one or more variants to the existing version of the landing page. You can either build a new variant from scratch or copy and then modify the original page. One more thing you should do to get the most out of your Swipe Pages landing page is to split traffic in half or use different proportions. For instance, if you use two variants and set the proportions to 60/40 in favor of variant A, then 60 out of 100 visitors will see this version, while the other 40 will see and interact with variant B. Splitting traffic like this allows you to A/B test different design elements & see which performs better with your audience.
Adding new elements is very easy. You just click the modules button, the second in the upper left corner, select the element you want to add, then drag and drop it to where you intended.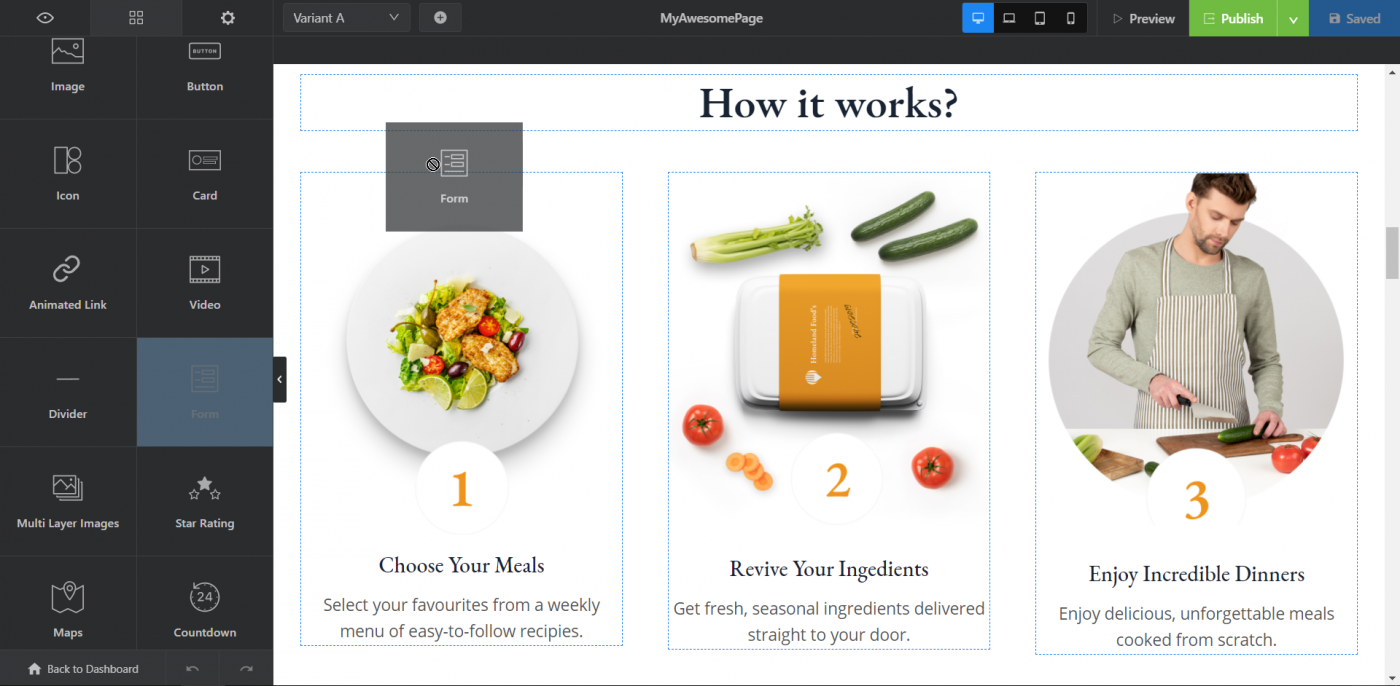 Additionally, you can add popups, checkouts, cookie notices, tracking codes, new colors, custom CSS and JavaScript, tinker with SEO, and more.
Even if you don't want to touch the code, Swipe Pages offers more than enough customization options. We already mentioned one way of editing. Alternatively, you can click on the part of the page you want to edit, and the page builder will show you all the available options.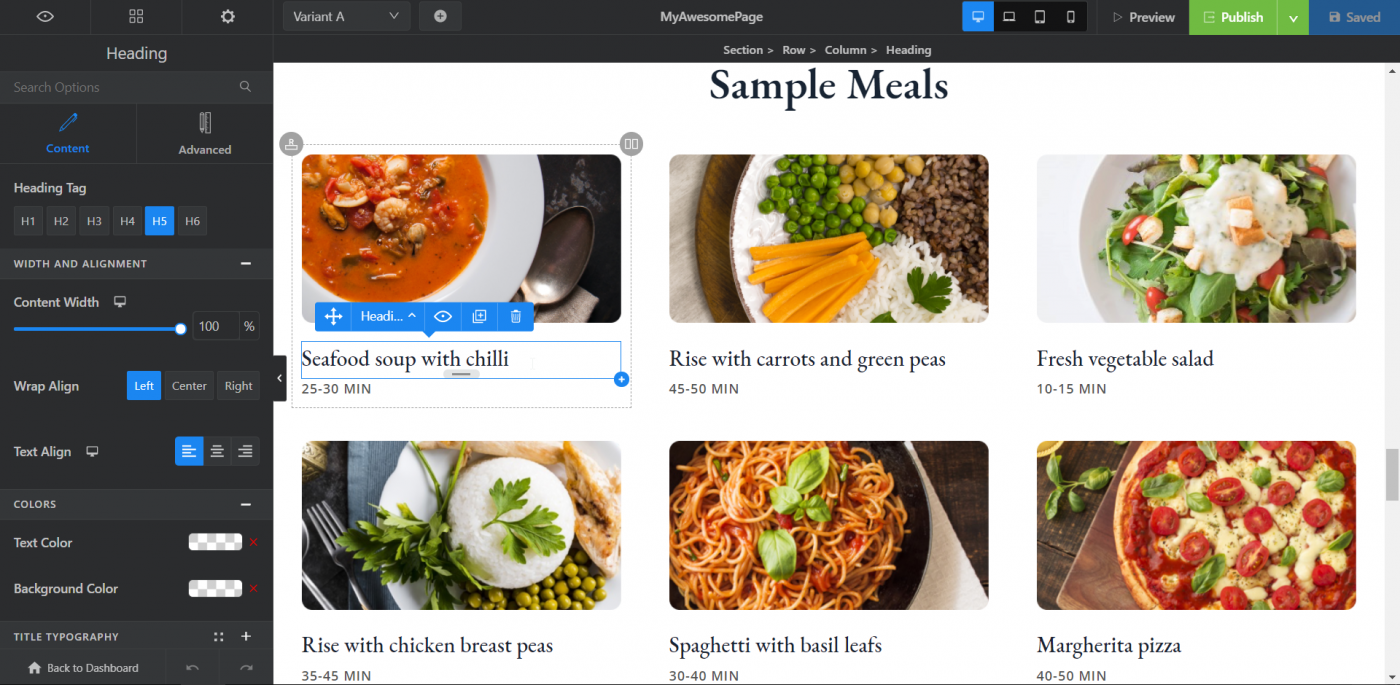 All in all, the Swipe Pages dashboard is well-ordered and anything but cumbersome. The page builder/editor is elegant, intuitive, and works smoothly. It gives ample opportunity to give your landing pages the look, feel, and functionalities you want.
Integrations
Swipe Pages doesn't offer many third-party integrations, but those that are available are some of the most notable names on the market: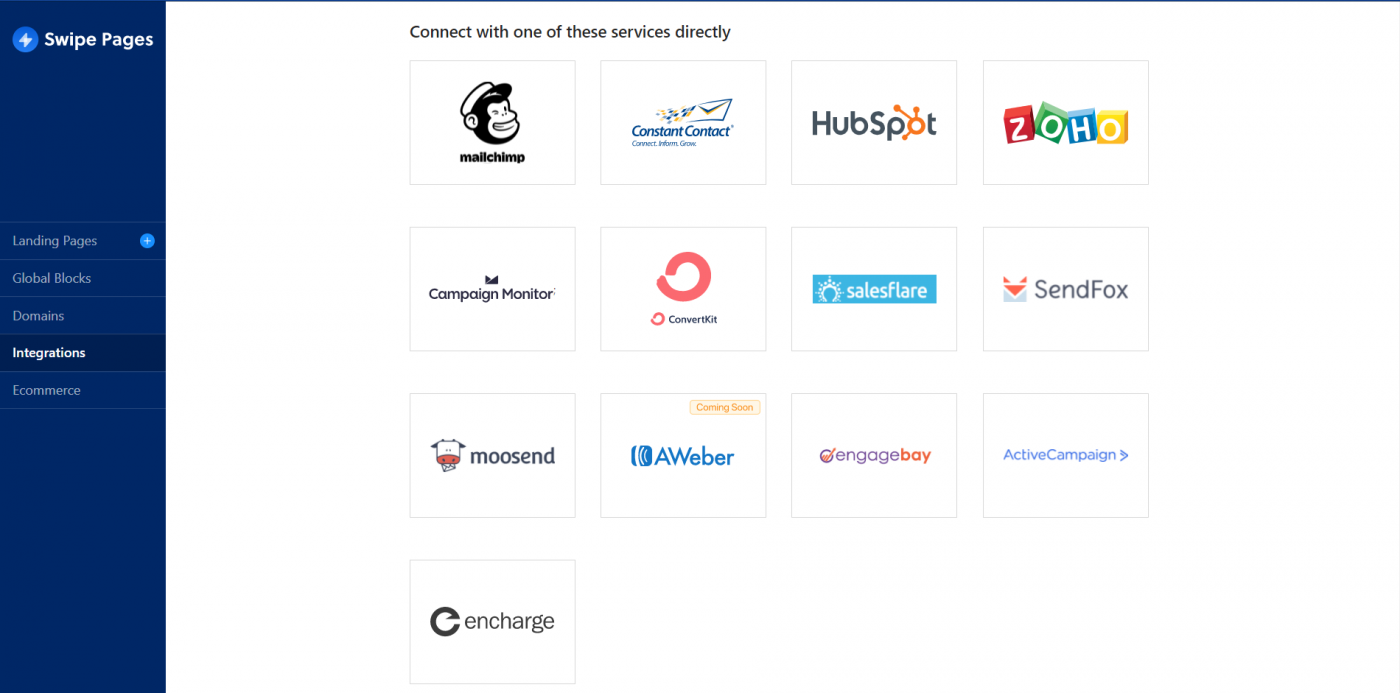 Mailchimp (marketing automation and email marketing), HubSpot (CRM, sales & marketing, and customer service), ConvertKit (email marketing and automation), and ActiveCampaign (email marketing, automation, and CRM) are probably the most popular in this group.
In addition to the thirteen integrations from the image above, Swipe Pages allows you to add Integromat and Zapier (already mentioned) too. They both allow users to connect to a myriad of other apps, so in a way, thanks to these two, you get access to thousands more third-party apps.
But, the list of possible integrations is even larger than what you can add through the Swipe Pages dashboard. For instance, Swipe Pages lacks a blog, and none of the apps that we saw offer blogging functionality. Luckily, DropInBlog comes to the rescue. It's a specialized top-notch blogging tool that allows you to create a blog on Swipe Pages quickly and in a very simple way. Just follow the link we provided to learn more about this software and the integration method.
Customer Support
We already saw that Swipe Pages offers direct support via email and chat, and some sort of phone assistance for the Agency plan subscribers. In addition to this, there's extensive documentation, where users can learn about various facets of the software and find answers to their concerns.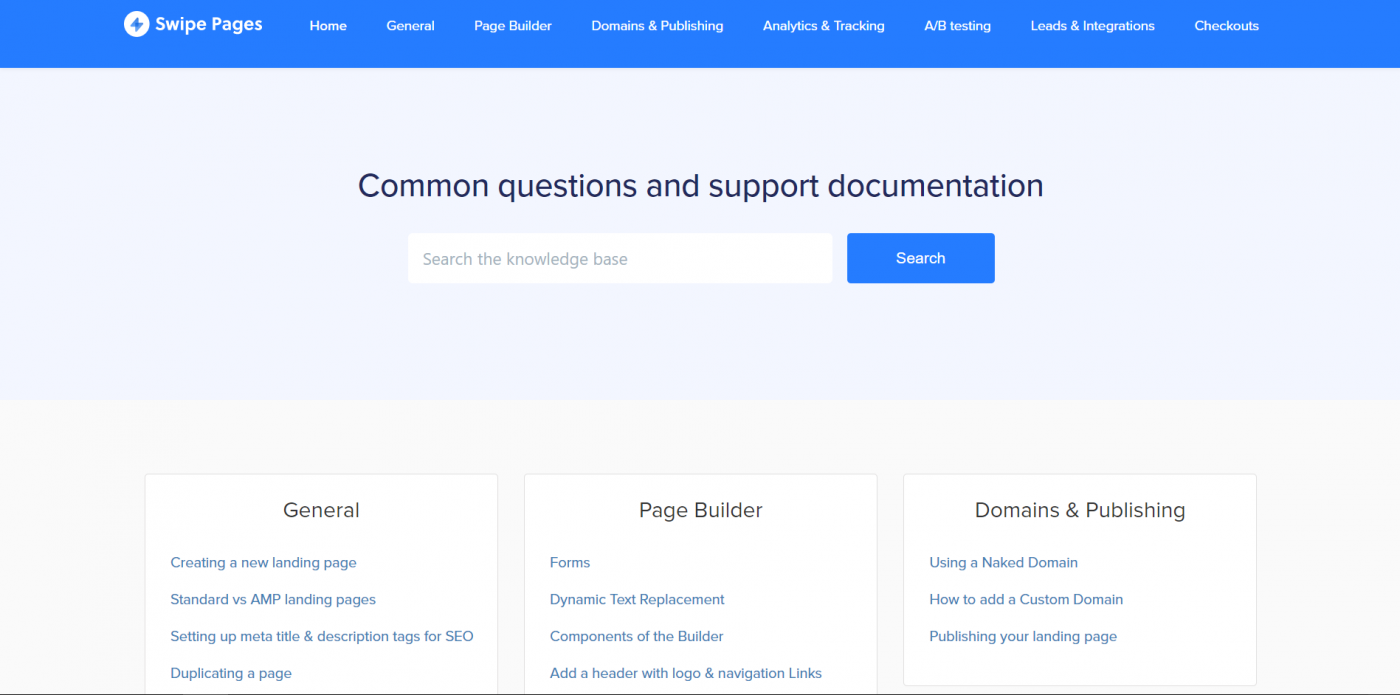 Customer review sites like Capterra and G2 indicate that the overall customer impressions with respect to the Swipe Pages' customer service are highly favorable. It's referred to with words like great, outstanding, quick, responsive, fast, amazing, and similar.
Final Thoughts
In this Swipe Pages review, we went over some key aspects of this landing page builder. Based on our experience and other customers' reviews, we can freely say that Swipe Pages offers a high quantity of high-quality stuff. It doesn't matter whether it is aesthetics or functionality or robustness that you're looking for, you'll find it in Swipe Pages. It's an excellent and promising software, and it's definitely worth your consideration.